San Francisco
15-18
years old
Software Development & AI
career insights - san francisco
2 weeks • July 2024
Learn from industry professionals and get ahead in Software Development & AI
Enrol now
Software Development & AI Summer Programme for High School Students in San Francisco
Embark on a transformative journey with the Immerse Education Software Development and AI Career Insights Programme. Set in California, San Francisco surrounded by tech companies, startup ecosystems, venture capital, and academia, this programme is a gateway to the dynamic world of coding and artificial intelligence.
Collaborate with like-minded peers, explore algorithmic landscapes, and ignite your passion for shaping the future of technology in the vibrant tech hub of San Francisco.
Immerse Education's Software Development and AI Programme in San Francisco is tailored for high school students aged 15-18. During this summer programme, embark on a coding journey, explore AI's practical applications, and discover the creative facets and tangible impacts of software development.
An Exceptional Software Development & AI Summer Course
Participants will actively engage with tech giants, delve into coding bootcamps, and immerse themselves in the dynamic world of software innovation. By seamlessly blending theoretical foundations with hands-on coding experiences, participants will develop the aptitude to engage with technology advancements that shape industries and transform societies.
Through experiential learning and meaningful interactions, participants will be well-prepared to make meaningful contributions within the rapidly evolving field of software development and AI, propelling technological advancements and shaping the future of innovation.
Embark on an introductory module that delves into the essential components of coding practices and the transformative potential of artificial intelligence. You'll explore coding languages, algorithmic thinking, and the basics of AI applications, forming the foundational understanding necessary to engage in undergraduate-level theories in software development and AI.
Engage in Software Development & AI Workshops
Silicon Valley Developers will host our coding and AI workshop. Participants can engage in coding exercises, explore machine learning concepts, and gain insights into AI applications. This workshop offers exposure to cutting-edge technologies under the guidance of tech experts. Topics covered in this summer camp may include:
Coding Fundamentals and Programming Paradigms
Artificial Intelligence Concepts and Applications
Data-driven Decision-making with Machine Learning
Ethics and Responsible Development
AI in Industry: Transforming Businesses
To be the best, you need to learn from the best. Exploring Tech Interactive science and machine learning labs, computer history museums, AI workshops, and collaborative workspaces, participants can understand how cutting-edge technology shapes our digital landscape. Interactions with software engineers and AI experts provide valuable insights into coding, algorithm development, and the future of AI-driven technologies.
Sample Workshop Activities
Example tutor:
Nathan J
Nathan is a PhD candidate in the Bioelectronics Research Group at the University of Cambridge's Department of Engineering, has a Masters in Engineering (MEng) in Electronic Engineering and Nanotechnology from the University of York, as well as a Masters of Research (MRes) in 2d Materials from the University of Cambridge. Nathan specialises in biocompatible flexible electronics, conductive polymers, and 2d materials to realise state-of-the-art organic electrochemical transistors for neural interfacing.
Special Speakers from previous summers
Former Olympian
Abi Oyepitan
A two-time Olympian and Commonwealth Gold and Silver winning track and field athlete.
Neuroscientist & entrepreneur
Dr Lynda Shaw
A journey in personal development - how to create your own set of tools to fast track success
Philosopher, author & journalist
Dr Nigel Warburton
How do great people find answers to deep and meaningful questions?
08
School Of Coding
Immerse Education is proud to be partnering with School Of Coding, whose aim is to inspire and excite students across the UK about the possibilities of studying computer science.
Recently featured on BBC News, School Of Coding aims to inspire students and create future tech leaders with fantastic educational, hands-on workshops. 
Our Career Insights students have the opportunity to explore coding with School of Coding, where they will learn about the use of coding using real-world examples and explore computer science as a branch of the vast and ever-growing engineering career path.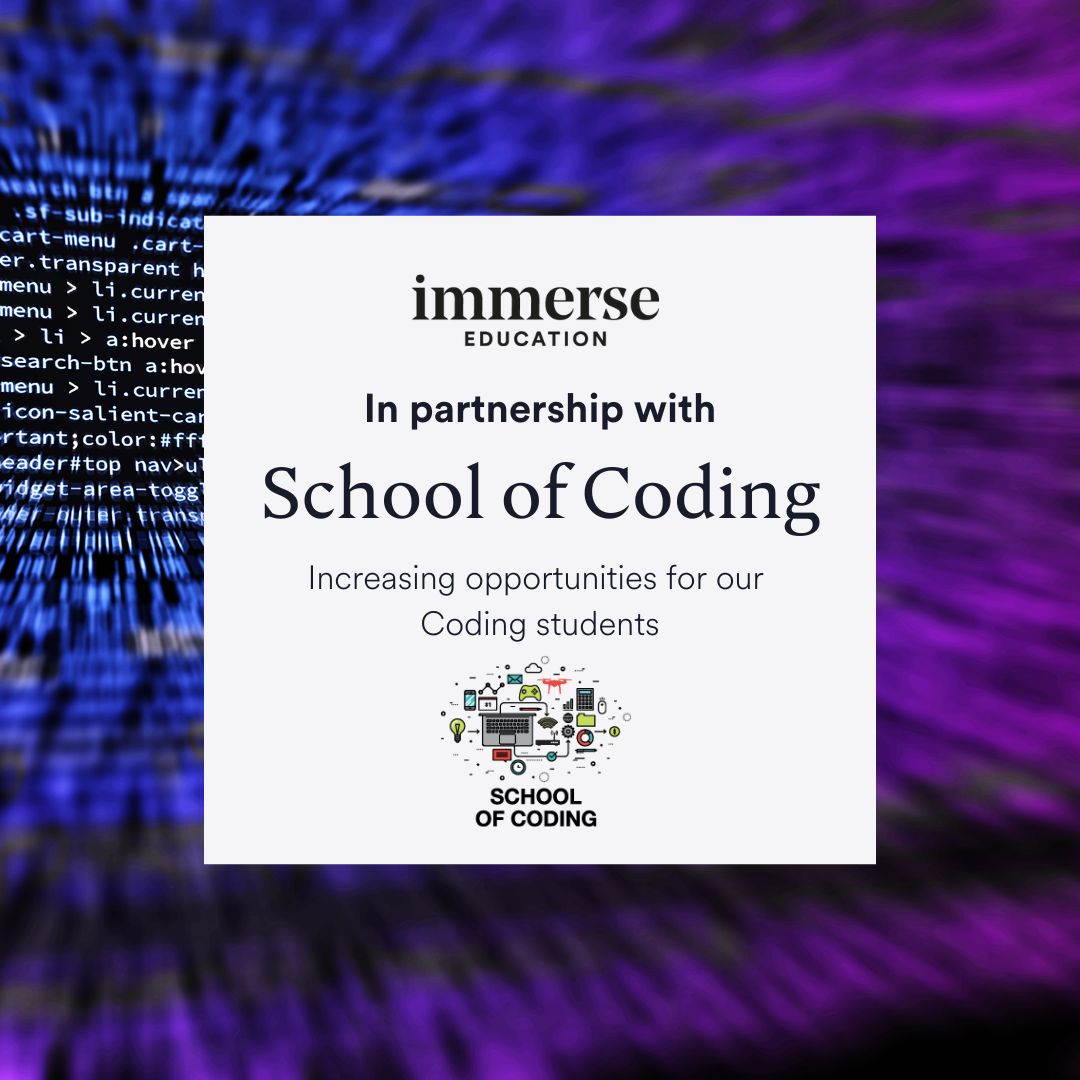 Reviews
Our Alumni says
Being at Cambridge was an experience like no other. I chose to attend this programme because I wanted to develop my abilities in coding and see whether I could handle the challenges of computer science. My favourite part of the lessons was being able to discuss different ways to solve problems in code and be able to look at a way to fix an error from a different perspective. I really enjoyed being able to work on mini coding projects along the way too. Learning in-depth about a subject and then having to apply that knowledge was the most beneficial aspect of the programme. I had the responsibility of producing a piece of work and that really helped me to collate all the notes I had made and really consolidate everything I had learnt.
Residential Computer Science 16-18
Immerse™ Software Development & AI Sample Modules
Module 1 -

Theory & Research

This introductory module introduces key concepts in the fields of engineering. You will examine real-world data, recent developments in the industry and innovative case studies across civil, mechanical, sustainable and aerospace engineering. You will learn how to use your data and research in product development, and practise presenting your insights in a professional setting.

Module 2 -

Practical Experience

Exposure to the industry brings future careers to life. Workshops may include a session with the Dyson Institute, a robotics master class with the School of Coding plus visits to industry heavyweights like Jaguar Land Rover or Transport for London. You'll get to see for yourself the engineering innovators that are changing the face of the industry.

Module 3 -

Real-World Project

As part of the engineering programme, your job is to offer an innovative solution to improve transport around London. You'll begin by examining the problem and speaking to those it most impacts, for example meeting with Transport for London and London Assembly. You'll investigate existing solutions and work on product development, taking into account available technology, budget and timeframe. The programme culminates in an opportunity to pitch your product or service to industry professionals.

Module 4 -

Professional Development

Bridging the gap between education and the world of work, this module offers an insight into existing and emerging careers in engineering. These sessions are made up of guest lectures and expert panel discussions with speakers from world-famous institutions like MIT, Stanford University and the University of Cambridge, and experience at leading companies like Airbus, Siemens and Rolls-Royce.
Want to learn more?
Request a syllabus overview
Want to learn more?
Request a syllabus overview
Explore San Francisco with our Social and Cultural Programme
San Francisco Summer School Programme with Immerse Education offers an enriching and immersive educational experience in one of the world's most iconic cities. Beyond classroom learning, students have the unique opportunity to explore and appreciate the rich cultural and historical heritage of the bay area, San Francisco.
Visit famous landmarks such as the Golden Gate Bridge, Alcatraz Island, and Pier 39, or enjoy an iconic baseball game. These excursions not only provide students with a deeper understanding of the city's history but also foster a sense of adventure and exploration, making the educational experience at enrolling in a San Francisco summer programme with Immerse, a truly unforgettable.
Pastoral care and safety
An accredited provider of academic short courses
Immerse Education is accredited by the British Accreditation Council (BAC), the leading mark of educational quality for the academic sector. Our accreditation with the BAC sends a positive and clear message to students and partners that they are studying with a trusted and reliable provider who has met a series of globally recognised quality assurance standards, both in terms of academic provision and student welfare.
The safety and well-being of our participants is our number one priority, and all staff undergo enhanced background checks and receive thorough safeguarding training before interacting with any students.
For more information, please visit our Pastoral Information page.
Meet Immerse's mentors and
college managers
BA (Ecole Normale Superieure de Cachon), MSc (College of Europe, Universite Paris-Dauphine), PhD (Universite Paris-Dauphine)

Dylan has been both an Immerse Mentor and a College Manager twice! He's known for going the extra mile to make the Immerse experience exceptional.

Hi There! My name is Elaine and I'm going to be a second year student at the University of Toronto. Im hoping to pursue my studies in psychology, biology and physiology.

Ian is an Economics student at the University of Toronto in Canada where he is part of the interregional football/soccer team.

Freya is a third year Medical student at St John's College, Oxford University. She is a keen runner and cyclist and has recently enjoyed taking up college rowing.
//= $text; ?>
13 nights accommodation in San Francisco
Visits to leading industries
20 hours of project-based learning by subject experts per week
20 hours of industry-focused visits per week
Real-world project workshops
Excursion days to iconic San Francisco iconic landmarks
Completion of personal project and certificate
Detailed Career Development Plan from your personal coach
Software Development & AI
Secure your place for Summer 2024
Enrol now
accreditation
Have a question?
Our expert team are ready to help.
Contact us