Home » University » What Degree Should I Study At University?
First Year Geography at the University of Cambridge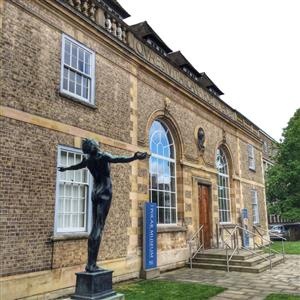 Back
First-year of Geography at the University of Cambridge encompasses both human and physical aspects to gain a broad overview of the subject.
The degree moves on from basic school knowledge to understanding the theories behind the facts and the contextual circumstances at the time of discovery of these theories.
During your first year, you study 'People, Place and the Politics of Difference' and 'Environmental Processes and Change', alongside completing a series of coursework projects focusing on key geographical skills.
The module I have loved studying is cultural geography which focuses on the ideas of knowledge production, race and gender.
Why Geography At University?
Deciding on a university can be very difficult and often a long application process is involved.
The University of Cambridge interviews give an insight into what regular supervisions (1-1 or small group sessions) are like. Many who find these initial interviews enjoyable and gain a place at the university are often happiest as they are comfortable with this method of teaching.
The entrance tests can be a shock and I would recommend using the past papers to practise under timed conditions.
What is also different about applying to Cambridge and Oxford is the college system.
You apply directly to a college that you wish to live at for the duration of your degree course and this is who you will have most correspondence with and where you will spend most of your time, so choose carefully!
If you do not know which college you wish to apply to then you can make an open application and you will automatically be applied to a college. You may also be pooled after the interview stage of the application process which just means that your chosen college does not have space to take you on, but if other colleges do then they will try to accept you instead.
What Is Geography Like At Cambridge Uni?
The Geography Department contains one large lecture theatre, a series of smaller seminar rooms, an undergraduate room where many people eat lunch (that they have brought with them), a large library, labs, offices and a computer room.
The library is well stocked and contains almost all the books you need, however, many texts are also available to view online or available within college libraries.
Life As A Geography Student At Cambridge Uni
First-year geography students have between 1-6 lectures per week in a large lecture theatre with all first-year students and around one supervision per week.
In preparation for each supervision, a reading list is given in advance and either an essay or presentation is set. These must be sent in around 2 days before each supervision so you will end up writing around one essay per week based on a different module each time.
Geography and Coursework
On top of this, you will complete 5 coursework projects: field, laboratory and desk-based skills; working with geographical data; GIS and cartography; statistics; and human geography methods.
For one of these coursework projects, you will have a day trip to a local area (I went to the Brecklands) and you will be physically carrying out experiments on the area.
This coursework is graded and counts towards your grade at the end of the year alongside two 3 hour exams that involve essay writing and definitions.
Keeping up with all the work can be challenging at times (especially when you join societies with large time commitments), but I feel that the geography degree work is manageable and involves a large amount of self-study which can be done when it is convenient for you.
There is no choice in modules you take in the first year which is unusual compared to other universities and you must study both human and physical.
What Modules Can You Do?
Modules in first-year human geography include:
The Historical Geography of Globalization
Understanding Cultural Geographies
Geopolitics and Political Geography
Society, Environment and Sustainable Development
Contemporary Urban Geographies
Unequal Geographies
Economic Globalization and its Crises.
Modules in second-year physical geography include The Cryosphere; The Earth; Atmospheric Processes and Climate; Oceans, Coasts and Catchments; Life on Earth; and Environmental Change during the Quaternary.
It is really important to look at the module choice as different geography degrees will offer completely different options and may or may not cater to your interests.
Rounding This Up: To Top It Off
When studying geography at the University of Cambridge you will also join the Cambridge University Geographical Society which offers career fairs, speaker talks and social events. These will broaden your knowledge, help you to understand your options after university and have fun too!
Related Summer Course: Geography Summer Courses
Geography as a degree subject is incredibly broad and you will learn about the world around you in-depth, from the people to the physical aspects of the landscape.
It is a very employable degree as many skills are learnt such as statistics, writing, data manipulation, mapping and presentation skills. Geography is a great choice if you want to keep your options open and study a course that is modern and relevant to the world of today.
Subscribe to the Immerse Education newsletter
We'll send you our company updates and latest news. Subscribe for free by completing the form below.