Business Summer School
Residential programmes
Immerse offers students insight into a discipline that you typically do not encounter during high school and yet remains one of the most popular and competitive career paths in the world. Check out our residential Business Management summer programmes below.
Unparalleled academic programmes
Business Management Summer School
Reviews
Hear from other students
The Career Insights programme has been great. I've been interacting with so many different people from different cultures and different countries, and it's been fun to learn new things about business management that I didn't know earlier. We've learned about different things in business like cryptocurrency, marketing, marketing strategies and advertising. We completed our own project about brand management which has been really interesting. In our project, we created our own brand and own product along with an advertising campaign to sell it to consumers.
Throughout the programme, I've noticed myself developing and changing into a more confident individual who has more clarity of his future. It gives you more clarity on how to present projects in front of educators, and it gives you an edge over the rest.
Career Insights Business Management Participant
Business Management Summer School
The ability to manage is a highly-valued skill across all industries and knowledge of the various functions within a business is similarly sought after. Whether you want to manage a team as part of a large corporation, or set up your own business from scratch, insight into the theory and practice of management provides invaluable insight into the challenges and opportunities that you may face in the future.
For a prospective Business Management undergraduate, the Immerse summer programme challenges you to explore challenging theory and develop practical, transferable skills.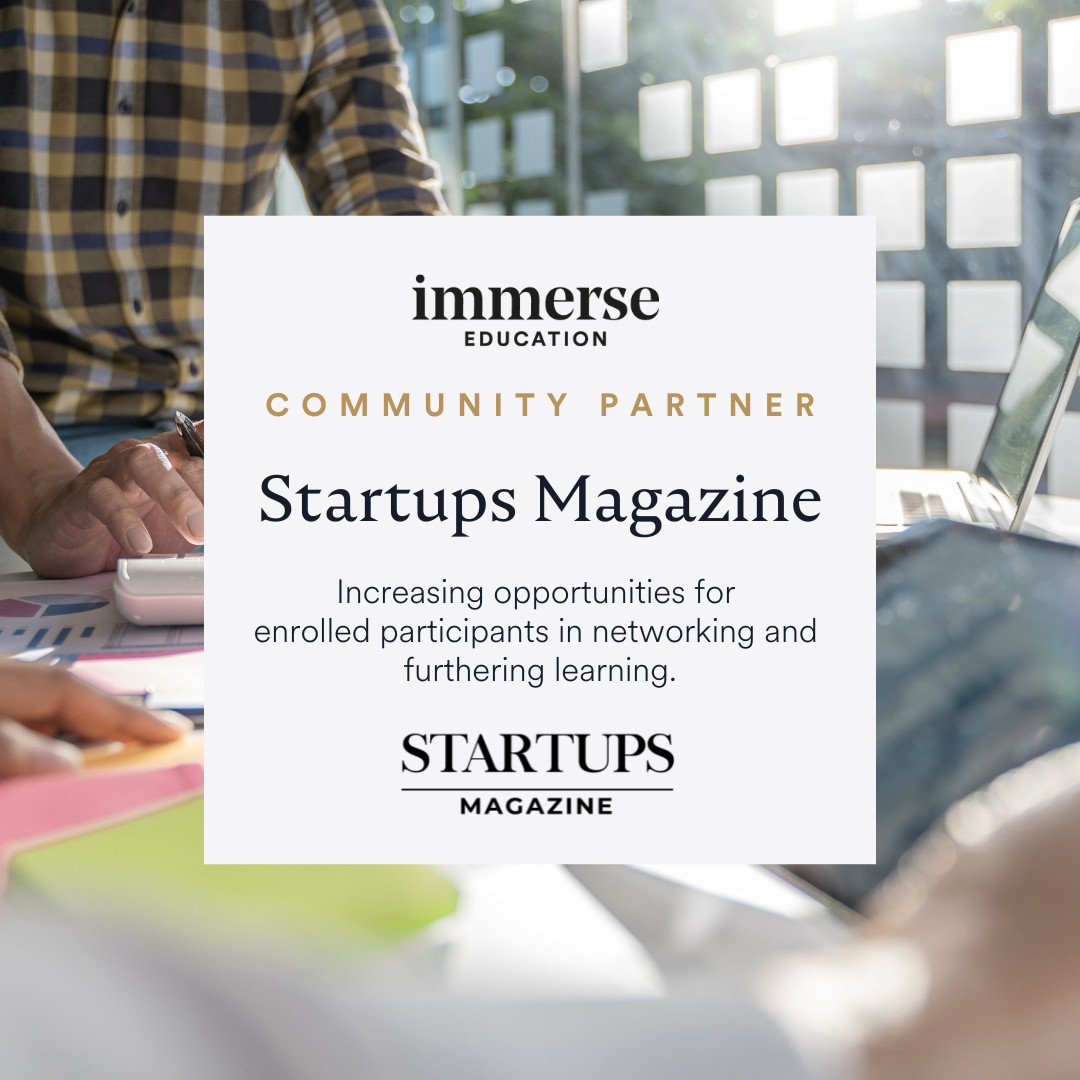 Community Partnership with Startups Magazine
Immerse Education is pleased to be a community partner of Startups Magazine, a print and digital publication created to champion technology startups with all aspects of their entrepreneurial journeys.
Startups Magazine presents its debut digital platform where subscribers can read gold-dust content from experts, access the digital version of previous issues, receive upcoming issues, be the first to be invited to Startups Magazine events and have the opportunity to have their own startup featured editorially.
Thanks to our partnership, Immerse Education students are able to access print and digital copies of Startups Magazine, attend Startups Magazine networking events, and even submit articles to be posted on the publications website.
Business Management
Frequently Asked Questions
Have questions about our business management summer program?
What is business management?
Business management answers the question, how do you run the business? Business managers have to ensure all operations work together. They also direct employees and help them reach their maximum potential.
Why is it important to study business management?
There are many factors to consider when handling a business. If you have a family business to inherit, or you want to build your own, you will need the training. More employers also seek business management graduates to help them run their companies.
Did you know that the growth of businesses is a cornerstone of the nation's economy? When both small and large organisations succeed, the nation prospers. Studying business management will not only help you succeed. It will also give you the power to help others win.
The US Bureau of Labor Statistics estimates management occupations to grow 9% from 2020 to 2030. Guess how many new jobs will open up? 906,800!
Occupations include administrative services and facilities managers; advertising, promotions, and marketing managers; compensation and benefits managers; financial managers; human resources managers; industrial production managers; and sales managers.
Immerse Education offers both online and residential courses for Business Management. Here are the locations where they are available: UK Cambridge, Oxford, and London. Outside the UK, the residential course is available in Sydney.
You do not need prior skills, experience, or learning to take the Business Management residential summer course. But having exposure to entrepreneurship or an active interest in it is helpful. We also provide work before the summer course for you to complete. This means you and your peers arrive at the same academic level.
Different topic sets related to Business Management depend on age and location.
For Cambridge, Oxford, and Sydney courses open to 13-15yr olds:
Introduction to Management
What are the components of management practice? Do you know that policies and systems directly affect employees' performance? This module will help you understand best practices for various business processes. How? By examining case studies to test management theories in practice.
Strategic Marketing
How do you deliver better value to your clients? That's what Strategic Marketing is all about. To tackle Strategic Marketing, you'll need to study market intelligence, proposition development, and brand strategy. You will also consider topics such as The Marketing Mix, Market Intelligence and How to Develop a Brand.
Competitive Advantage and Innovation
How do companies differentiate themselves from their competitors? There are various strategies, and innovation is one of them. This lesson will look at real-world examples. What made some succeed, and others fail? You can then brainstorm innovative ideas with your classmates!
Develop Your Own Case Study
Here's one of the most exciting parts: you can research your own case study! Yes, you have complete freedom to choose which industry, company, or business leader inspires you. Then, you can share your findings with your peers. And you'll also get to learn from them.
Cambridge, Oxford & Sydney Topics For 16-18yrs
The Cambridge, Oxford, and Sydney courses open to 16-18yr olds will also cover "Introduction to Management" and "Develop Your Own Case Study." But modules 2 and 3 will be Negotiation and Brand Management.
Negotiation
Negotiation is a vital sales skill. How can you sell your products and services? To succeed, you'll need a specific set of relational skills. Empathy, collective problem solving, and value creation are all essential. After this lesson, you'll have more confidence to handle courageous conversations.
Brand Management
How do you build a sustainable advantage over competitors? Branding is key. This module will help you understand the importance of branding for both the buyer and seller. You'll also learn how to manage brand equity.
What topics are available in London?
For the London Business Management residential summer course, here are the topics open to 16-18 yr olds:
Theory And Research
A successful business solves a problem. To understand the problem, you'll need to use theory and research. Exploring sourcing data and investigating trends are valuable skills to get you ahead in business. These strategic insights will help you make educated decisions. What's more, this lesson will teach you how to present your research and prioritise business strategy.
Real-World Project
Now that you know how to use Theory and Research, it's time for practice. So here's the challenge: the UK Government launched a 25-year plan to protect the environment. But guess what, we still experience huge rates of carbon emissions. The damage to the British countryside is still alarming. And the dangerous threat of climate change still looms over our heads!
What is your business solution to this global crisis?
In the Real-World Project, you will have workshop sessions with London Borough City Councils, London Assembly and Barclays LifeSkills.
Practical Experience
So you've designed your business solution. What's next? You'll have to refine it and pitch it to the professionals. To help you with that, you'll embark on a trip to Queen Elizabeth Olympic Park. There you'll explore how London's finest start-ups in finance, technology, retail and education transform the face of business.
Professional Development
The Professional Development module bridges the gap between education and work in the real world. Here you'll have an insight into the current market trends and where they may lead in the future. Guest lectures, expert panel discussions, and skill-building workshops will enrich your knowledge.
You'll also learn cover pitching, brand development, communication, public speaking and collaborative thinking. The best part? You'll experience 1:1 coaching sessions. So you can receive personal feedback for real-time improvement.
Motivated students ages 13-18 who want to solve problems are the best candidates to take the Business Management courses. Who else? Students who are eager to take business-related courses at the university to get ahead of their competition.
Also, for those of you who want to learn from expert tutors at Cambridge, Oxford, London, and Sydney, this course is for you!
Have a question?
Our expert team are ready to help.
Contact us