International Relations Summer School
Residential programmes
The Immerse Education International Relations Summer School offers students the opportunity to explore this exciting interdisciplinary subject at the university level. During the two week programme, you will uncover key IR theory and learn how to apply this to real-world case studies. Expert tutors from world-leading universities teach you how to ask the important questions about international organisations and foreign policy, and talk you through the variety of career options open to a graduate in International Relations. Find out more below!
Unparalleled academic programmes
International Relations Summer School
Cambridge
13-15 years old
International Relations
Academic Insights • 13-15 years old
Cambridge
13-15 years
Our summer programme in Cambridge provides you with an exciting first look into the interdisciplinary nature of International Relations, and introduces you to key concepts and skills that can be transferred to a vast array of future opportunities.
16-18 years old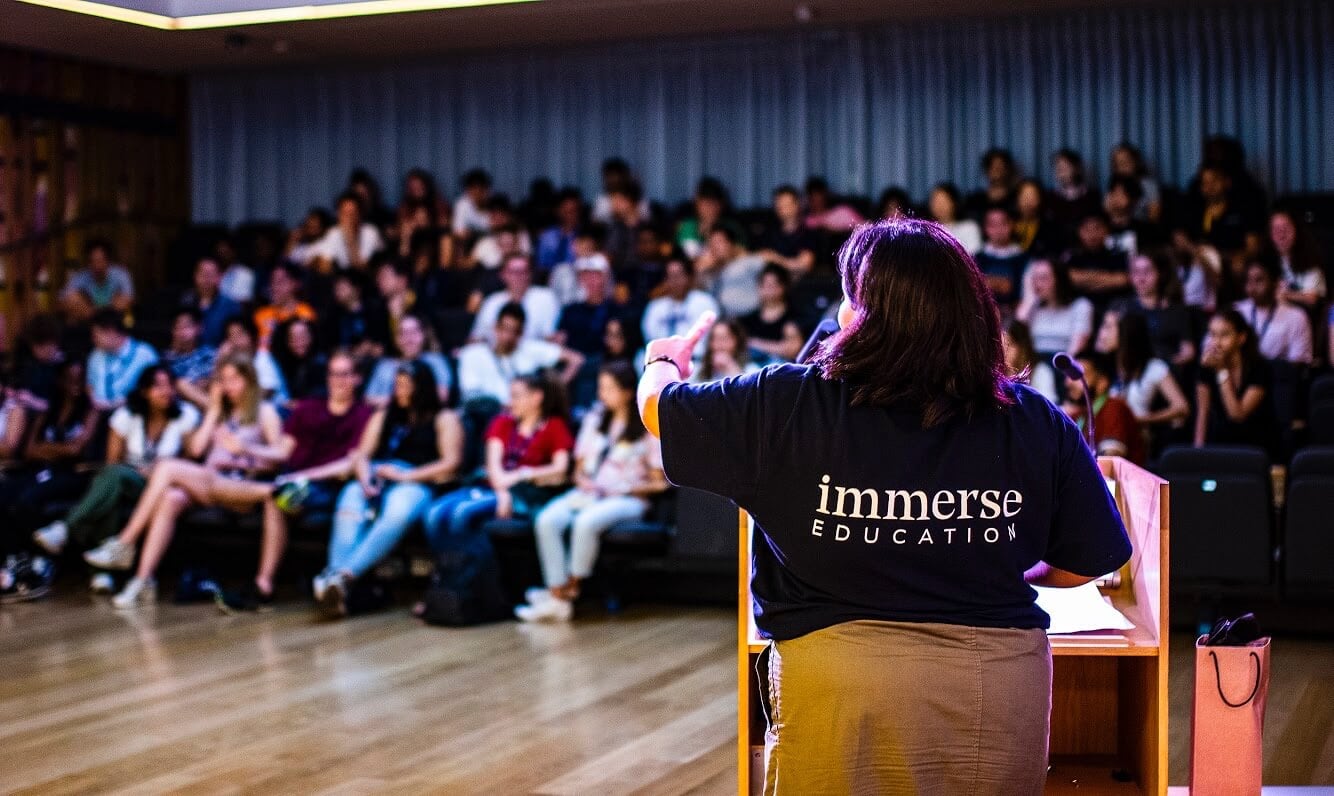 International Relations
Academic Insights • 16-18 years old
Cambridge
16-18 years
An in-depth programme that allows you to explore key International Relations theory and examine modern case studies that look into current areas of international conflict.
Oxford
13-15 years old
International Relations
Academic Insights • 13-15 years old
Oxford
13-15 years
Our summer programme in Oxford provides you with an exciting first look into the interdisciplinary nature of International Relations, and introduces you to key concepts and skills that can be transferred to a vast array of future opportunities.
16-18 years old
International Relations
Academic Insights • 16-18 years old
Oxford
16-18 years
Learn how to ask the important questions about international organisations and foreign policy, whilst studying in the beautiful surroundings of an Oxford University college.
Reviews
Hear from other students
It has been one of the most amazing experiences I've had in my life. Honestly, I don't want to sound cheesy, but I've met so many people and I've learned so much history and geography, especially in my class, because everyone is from all around the world, and I'm so glad! I have learned more in two weeks than I have done in the past 11 years at school.
I have enjoyed everything, especially talking with people – communication and meeting new cultures and learning about their traditions has been amazing, as well as getting to know the mentors, they're so cool! I've learned so much about applications and universities and just how normal these students are – they're not different from us, even though they study at Oxford or Cambridge. They will guide you through your experience and will help you with anything you need.
(Read Teddy's full blog)
Residential International Relations (16 - 18)
International Relations Summer School
International Relations is a broad, multidisciplinary discipline that combines history, politics, economics, law, philosophy, and many more subjects besides. Supported by a university tutor, you will explore the most prevalent theories in International Relations and apply these to current and past examples from around the world. You'll develop critical analysis skills and engage with high-level academia.
For two weeks, you will reside in a university college exploring the field of International Relations with expert tutors. Outside of your academic studies, you'll have the opportunity to explore your surroundings through our carefully designed programme of events and activities. As you get to know the city, you'll also make friends with like-minded peers who have travelled from all over the world.
Do you want to know more about what it's like to study International Relations? Explore your interest in-depth on our summer programmes!
International Relations
Frequently Asked Questions
Have a questions about our International Relations courses?
What is International Relations?
It studies the political interaction among nation-states. The goal? To develop relationships based on cooperation. So countries can enjoy the mutual benefit and secure quality of life for their inhabitants.
Those who deep dive into International Relations must understand other fields, including history, economics, political science, and geography. By integrating these subjects, one can thoroughly examine crucial issues such as human rights, globalization, climate change, and global poverty.
Why is it important to study International Relations?
Because our world is interconnected like never before. By establishing peaceful alliances, countries can enjoy successful trade. Allowing citizens to travel with ease, building up business and tourism. Thereby giving humanity opportunities to improve their lives and pursue happiness.
What's more, we face global issues that no singular country can answer by itself. Terrorism, climate change, and the COVID-19 pandemic are vivid examples showing the importance of cooperation. By pooling resources and sharing information, coalitions can create a more significant impact for the common good.
A degree in International Relations prepares you well for diplomacy, non-profit, law, journalism, and teaching careers.
According to the US Department of State, more than 270 embassies and consulates are open for aspiring Foreign Service officers to apply.
How about non-profit work? Nonprofit HR declare that almost 80% of U.S. nonprofits prioritise talent acquisition in 2022. Indicating how fast-growing the sector is!
In the field of law, the US Bureau of Labor Statistics estimates a 9% employment growth from 2020 to 2030. Opening up about 46,000 jobs per year.
For journalism (along with news analysts and reporters), it's a 6% growth from 2020 to 2030. So guess how many job positions will open up a year for the next decade? 5,400!
And teaching? High school teachers alone have an 8% growth from 2020 to 2030. That's about 77,400 openings per year.
In the UK, the Department for International Development is growing fast. They declare that new job roles emerge constantly. With an annual budget of £14 billion, they need more aspiring individuals like you to help build a safer and more prosperous world.
Immerse Education offers both online and residential courses for International Relations. For the residential courses, the locations are the city of Cambridge and Oxford. Students stay in the colleges of Cambridge University or Oxford University, depending on their chosen location.
You don't need any formal prior skills, experience, or learning to take residential courses for International Relations. But having an active interest in international relations helps. Moreover, our expert International Relations summer course tutors provide work before the course starts. This ensures you come with the required knowledge to get the most out of your summer course.
For 13-15-year-olds, here are the topics:
The United Nations And Its Challengers
Does globalisation reinforce or undermine the UN system? A topic you'll debate in this module. Explore the historical context of the United Nations and the failings of past models. What's the institutional structure of this organisation? What's the significance of other international actors? Satisfy your curiosity by engaging in rich and exciting discussions!
Rising Powers And International Order: The Case Of China
Have you heard of the 'Made in China 2025 Strategy'? Find out what it is in this session. Then, investigate how China integrates international organisations (such as the World Trade Organisation in 2001.) As you study China's rising power, ponder, "What are the consequences for the international order?
Change And Continuity In US Foreign Policy
There are three areas the US Foreign Policy focuses on, namely: military disengagement from the Middle East, the defence of US foreign trade interests and a challenging attitude towards Europe. Examine what these foreign policies are in this class. And if you were to assess them in the historical context of Biden's predecessors, what are the potential international consequences?
Exploring International Actors
Choose one key international actor as your research topic. Analyse their structure and function within the context of the International Relations theory you've learned so far. You'll have the opportunity to present your research as a written essay. Then deliver a presentation to your peers! End the module by engaging in questions and class discussions.
___
The topics for 16-18-year-olds include:
The Middle East In International Relations
The Middle East is home to three great religions. And they also harbour massive quantities of oil and gas. Is it any wonder that they've invited geopolitical attention almost by default? Nowhere else can you find economic failings and political development so closely intertwined with international conflict! So, dive into this module and check out the vital international actors in this region.
The Role Of Ideas In International Relations
The term "Constructivism" is a common term that captures the role of ideas in International Relations. How does this relate to the new global priorities such as climate change, international human rights, and international aid? What do nation-states and global actors aim to achieve in demonstrating their 'social side'? Explore the answers to these questions in this module!
The Project Of A European Union
What role does the European Union play in internal and external affairs? How does it maintain its internal structure with a total population of more than 500 million people? This session will examine the strengths and weaknesses of the European Union in today's increasingly globalised world.
United Nations Simulation
The scenario is this: you're in a high-level diplomatic meeting of the UN Security Council. You represent a country assigned to you. Your job? Write a position paper about your country's foreign policy regarding a topical political scenario. Next, present and defend your country's position on the matter. While working to form alliances in line with its goals.
Motivated students ages 13-18 interested in International Relations are best suited for these courses. Are you aiming to take International Relations, Political Science, or Law at the university? Then taking the residential courses will give you a massive leap ahead of the competition.
Do you want Oxford and Cambridge tutors to enhance your skills and knowledge? Don't miss out on this opportunity!
Have a question?
Our expert team are ready to help.
Contact us