Royal Hospital School
13-15
years old
Business Management
future insights
2 weeks • July 2021
Experience potential career paths in Business Management at a prestigious boarding school
Enrol now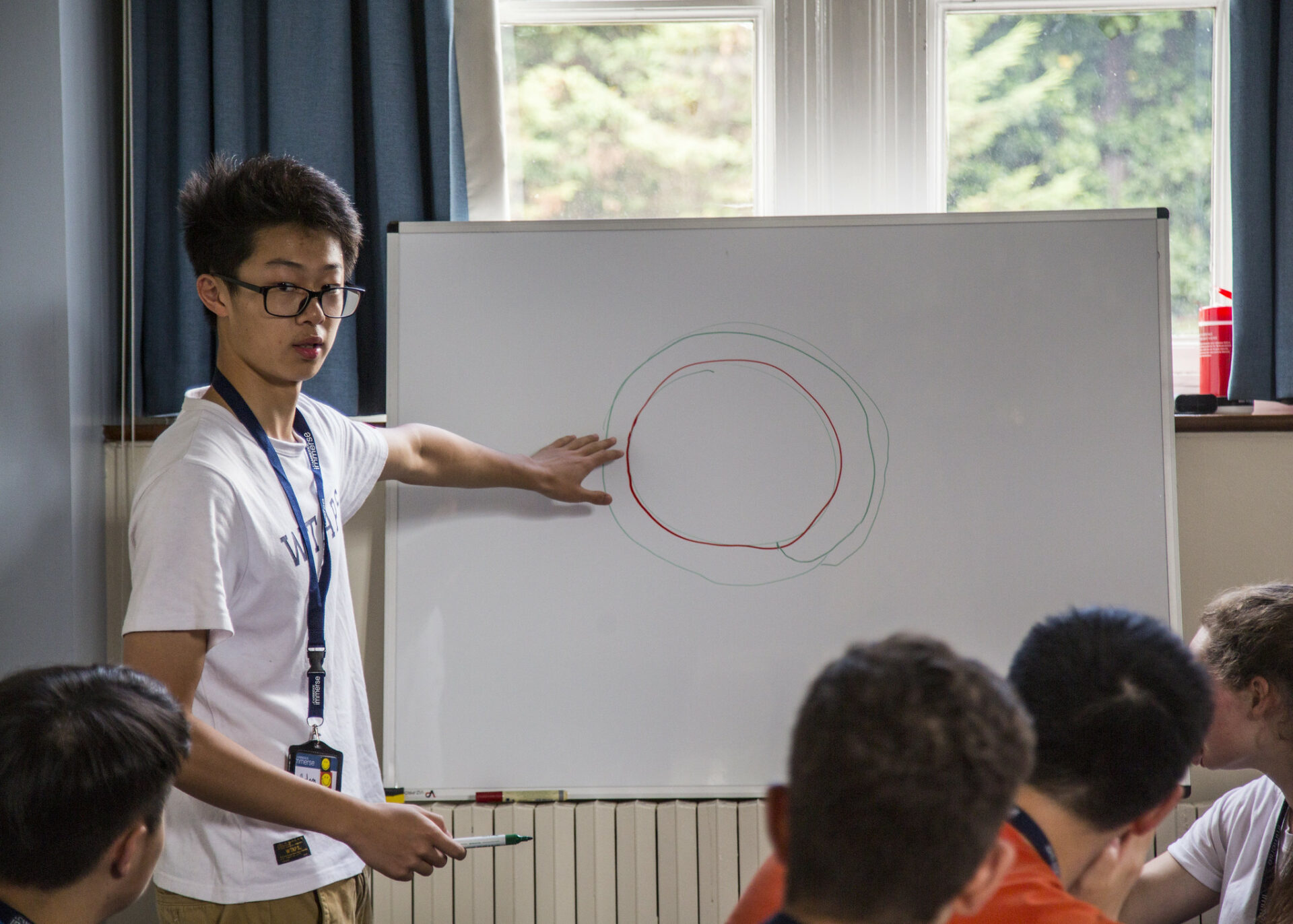 Exceptional summer school in Business Management at Royal Hospital School
The Business Leadership programme focuses on the challenges facing enterprises today, and the impact that will have on the future. Participants will explore areas such as common business theories, ethics of trading and innovative marketing strategies.
The aim of the Future Insights Business Leadership programme is to introduce participants to key business principles, whilst simultaneously helping students understand what career opportunities could be available to them in the future, and how companies can capitalise on new technologies to help their own development.
Innovative Material
The key question this programme asks is 'how do ambitious young people prepare for careers that don't exist yet?'.
How would you describe a social media manager, VR developer or big data analyst to someone 10 years ago?
The Future Insights programme focuses on forward-thinking content that helps students develop well-rounded skills, whilst looking at potential careers available to them in 10 years time and beyond.
The course also puts huge emphasis on practical learning. Participants will be exposed to emerging technologies, and will gain hands-on experience learning how they work, including:
Building robotic vehicles

Operating drones

Exploring virtual reality

Racing sustainable vehicles
Reviews
Our Alumni says
"
I learned a lot about the field of management and what it is like to learn at Cambridge…my time at Immerse was unforgettable.
Residential Summer Programme (Management) Student
Work hard, play hard.
Unbeatable excursions
The Future Insights timetable includes four excursions:
Team building activities in a forest adventure park
A visit to an aqua park to go wakeboarding
A trip to a traditional British seaside resort
Day trip to London to visit the Olympic Village
Work hard, play hard.
Live and study in
Royal Hospital School
Boarding school near London
Future Insights takes place at a prestigious boarding school situated in 200 acres of countryside in the south east of England, near London.
With historic links to the Royal Family and the British Royal Navy, the Royal Hospital School provides a perfect setting for students wanting develop confidence, ambition and integrity.
World-class facilities
Royal Hospital School boasts incredible on-site facilities, including expansive playing fields, all-weather pitches, climbing walls, swimming pool, tennis courts, squash courts, horse riding facilities and even its own golf course!
Students are housed in separate male and female dormitories in a combination of single, twin and triple bedrooms. Participants live in boarding houses that have their own student common areas with pool tables, table tennis, sofas, televisions and more.
Pastoral care and safety
An accredited provider of academic short courses
Immerse Education is accredited by the British Accreditation Council (BAC), the leading mark of educational quality for the academic sector. Our accreditation with the BAC sends a positive and clear message to students and partners that they are studying with a trusted and reliable provider who has met a series of globally recognised quality assurance standards, both in terms of academic provision and student welfare.
The safety and well-being of our participants is our number one priority, and all staff undergo enhanced background checks and receive thorough safeguarding training before interacting with any students.
For more information, please visit our Pastoral Information page.
Meet Immerse's mentors and
college managers
All of our team members are approachable and supportive. Check out some of our previous team:
Eliza's infectious enthusiasm - from the academic sessions to the talent show -means that she's a firm favourite amongst Immerse students.

Dylan has been both an Immerse Mentor and a College Manager twice! He's known for going the extra mile to make the Immerse experience exceptional.

Ore participated in Immerse as a student before joining the team whilst studying at Cambridge, relating her Immerse experience to new students.

Maia is a Cambridge University Theology student who participated in the Immerse Philosophy programme.

Murray is an enthusiastic Medicine student at Cambridge University, who is always eager to help Immerse students make the best of their experience.

Olivia studies Medicine at Cambridge and has a knack for making friends with each of her mentor 'family' - creating a home away from home.
Immerse™ Business Management Sample Modules
Module 1 -

Entrepreneurship

These sessions will focus on areas such as 'The Growth Mindset' - and help participants to see how ambitious business leaders set goals for themselves, and how they reach the lofty targets they have. Participants will also look at problem validation techniques, and discuss how business should respond when they encounter problems with their product/service. Similarly, they consider how to best leverage failures - such as how to learn lessons from previous mistakes and make improvements based on feedback.

Module 2 -

Cryptocurrency

What exactly is blockchain technology and how does it work? Participants will consider the risks and benefits of using a decentralised currency, and look at whether more businesses will accept payments in cryptocurrencies such as Bitcoin, Ripple and Ethereum.

Module 3 -

Predicting Consumer Behaviour

This class will examine how enterprises identify opportunities and strategise accordingly, as well as explore what tools they use to be able to predict what products will be successful, as well as customer buying patterns and consumer trends.

Module 4 -

End-of-Course Competition

Over the last two days of the Future Insights programme, students from each discipline will join together to form teams to compete against each other. Participants from the business, sustainability, STEM and media programmes will use their combined knowledge to take part in a school-wide competition whereby teams have to pitch to host the world's first ever sustainable Olympics. This is a perfect setting for students to put their new-found knowledge into practice, whilst working in teams to achieve a common goal and compete for the grand prize.
Want to learn more?
Request syllabus overview
Want to learn more?
Request syllabus overview
//= $text; ?>
13 nights accommodation in a prestigious boarding school
Breakfast, lunch and dinner
40 hours of future-minded academic sessions expert tutors
Carefully designed study and lecture materials
Mentor programme and access to support material
All excursions including London
Practical workshops working with VR, drones and robotics
Comprehensive summer school insurance
Graduation ceremony and certificate
Detailed evaluation written by tutor
Business Management
Secure your place for Summer 2021
Enrol now
accreditation