Cambridge
16-18
years old
Cambridge Chemistry Summer School
academic insights
2 weeks • July & August 2024
Gain advanced pre-university insights into Chemistry whilst staying in Cambridge University colleges, making lifelong friends and learning from expert tutors. Our
Chemistry summer schools
are one of our most popular programmes in Cambridge.
Enrol now
Advanced pre-university course in Chemistry in Cambridge colleges
The chemistry summer school is the ideal introduction to university level chemistry, where you will develop both the skills and knowledge of enthusiastic young scientists through a programme designed and taught by expert chemistry tutors from leading universities.
The curriculum explores stimulating topics such as sustainable chemistry, nanotechnology, and their implications on everyday life. Move beyond a mere theoretical understanding of chemistry to appreciate its crucial role in the world around us. You will emerge with the crucial pre-university knowledge and skills to excel in Chemistry.
Learn directly from expert academics from world-class universities
You will explore novel concepts and share ideas in small groups of like-minded and ambitious peers from around the world. In small class sizes averaging 7 students, you will be guided by expert tutors who have honed their expertise through teaching undergraduate students at world-class universities, including the universities of Cambridge, Oxford, and Harvard.
Our rigorous vetting process guarantees that all participants are taught by engaging and supportive educators who are, most of all, enthusiastic about sharing their expertise to ensure our summer school teaching is of the highest quality. Immerse™ is an unrivalled academic experience.
Average class size of 7

1:1 tutorials

Academic workshops

World-class tutors
Boost your confidence and develop key attributes in academic skills workshops
Our workshops are geared towards unlocking participants' potential, giving them the tools to prepare for the next steps of their education and future goals. Build upon existing study skills to support future university-level learning.
These workshops explore a diverse and enriching range of topics – past examples have ranged from 'Productivity tips' to '21st Century Technology Skills'. We're sure that you'll learn something completely new. Unlike traditional schools, Immerse allows you to learn beyond the traditional curriculum.
This programme is designed for students with at least an upper-intermediate level of English (B2). If you are unsure if you meet this requirement, please contact advisor@immerse.education.
Certificate & detailed participant evaluation

Personal project or Creative portfolio

Experience Oxbridge life

Enhance key academic skills
Example tutor:
Kimberly B
Kimberly is a PhD researcher in Chemical Engineering and Biotechnology at the University of Cambridge, having previously been a lecturer at the University of Calgary. Kimberly's research involves autonomous robotics, biomechanics and the self-assembly and structure of carbonaceous nanoparticles.
Guest speakers from previous summers
Each week, Academic Insights participants will hear from an influential guest speaker from a variety of inspiring backgrounds. Meet some of our previous guests:
Neuroscientist & entrepreneur
Dr Lynda Shaw
A journey in personal development - how to create your own set of tools to fast track success
Former Olympian
Abi Oyepitan
A two-time Olympian and Commonwealth Gold and Silver winning track and field athlete.
Philosopher, author & journalist
Dr Nigel Warburton
How do great people find answers to deep and meaningful questions?
Reviews
Our Alumni says
My favourite part was the conversations we had with our tutor that really served to broaden our knowledge of a specific subject. I think my tutor had an amazing way of pushing me past my own knowledge and integrating new, complex information into what I already knew.
Academic Insights, Chemistry
Work hard, play hard.
Action-packed social programme
Outside of lessons, we are proud to offer a busy and diverse social programme to help you get the most out of your time in Cambridge. This includes activities such as punting on the River Cam, zorb football and a murder mystery night in the college.
There are also two excursions during the programme, one day trip to visit Oxford and its constituent colleges, as well as an optional day out in London, seeing the city's most famous landmarks as well as some free time for shopping. Those who choose not to travel to London are invited to afternoon tea in Cambridge.
Activities and excursions are run by our team of friendly mentors – whose main job is to maximise your enjoyment.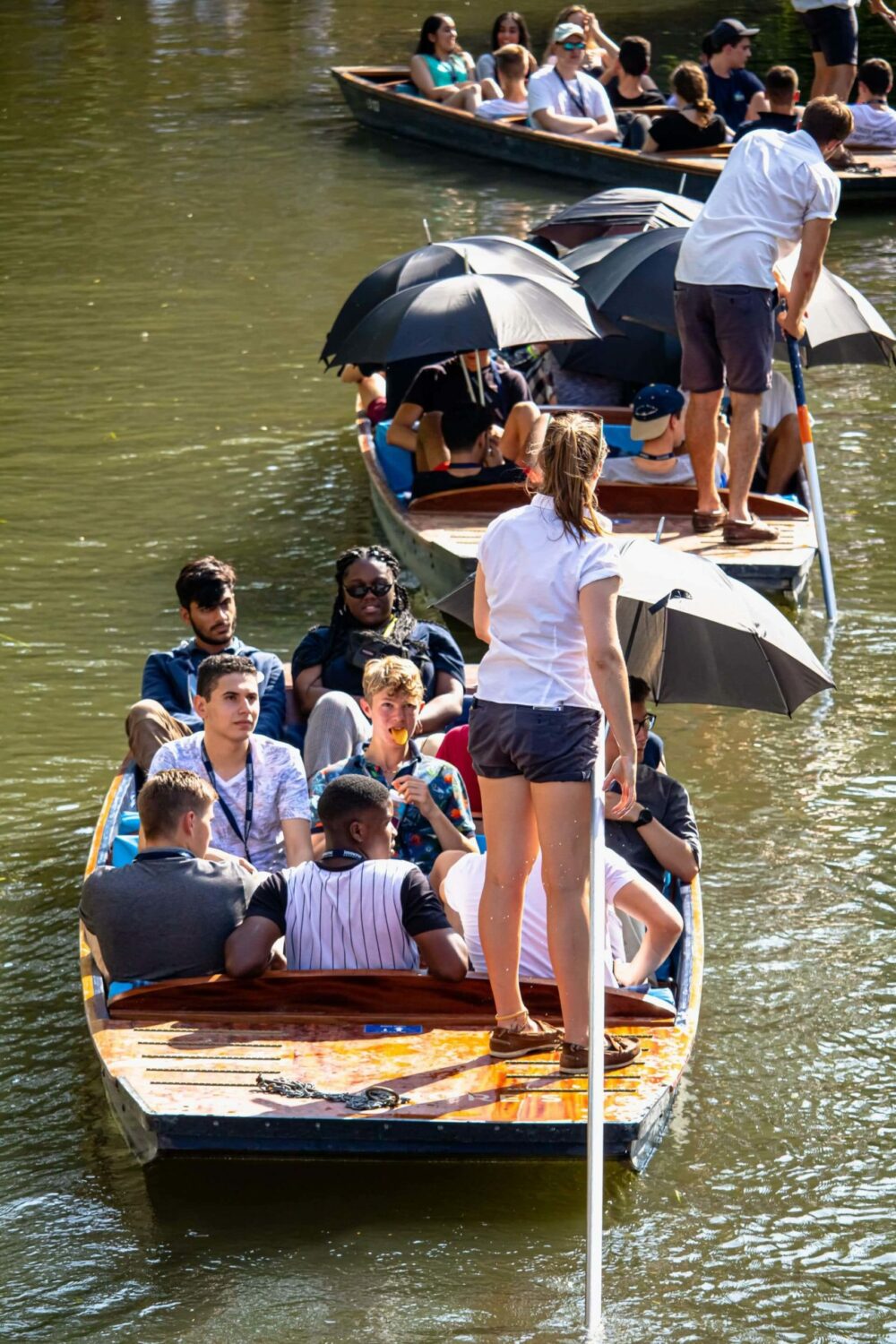 Work hard, play hard.
A unique social programme.
Experience traditional 'Formal Hall'
Formal Hall is a traditional weekly meal that takes place in every college. This is an opportunity for students to dress up, dine by candlelight in the magical surroundings of a Cambridge college's dining hall.
As an Immerse student, you will experience formal dinner three times during your stay – once per week in Cambridge, as well as in an Oxford University college on the excursion day.
Formal hall is truly a memorable occasion, so remember to bring some smart clothes!
A unique social programme.
Live and study in a
Cambridge University College
Experience life as a Cambridge University undergraduate
All participants will be allocated to a college a few weeks before arriving, based on their dates and subject choice.
If you would like to stay in the same location as a friend/sibling – please let us know and we will do our best to arrange this, where possible.
Males and females have separate accommodation in every college, and there is wi-fi available throughout.
For more information, please visit this page.
Student Welfare & Safety
An accredited provider of academic short courses
Immerse Education is accredited by the British Accreditation Council (BAC), the leading mark of educational quality for the academic sector. Our accreditation with the BAC sends a positive and clear message to students and partners that they are studying with a trusted and reliable provider who has met a series of globally recognised quality assurance standards, both in terms of academic provision and student welfare.
The safety and well-being of our participants is our number one priority, and all staff undergo enhanced background checks and receive thorough safeguarding training before interacting with any students.
For more information, please visit our Pastoral Information page.
Meet some of our mentors and
college managers
All mentors on the Academic Insights programme are past/current students at Oxford or Cambridge University, whilst College Managers have experience running academic short courses. All of our support staff are background-checked and receive training in providing an unforgettable experience for every Immerse student. Meet some of our previous team:

Immerse™ Chemistry Example Modules
Module 1 -

Atomic Structure And Periodicity

You will take a closer look at the atom, by discussing some of the earlier models of atomic structure, including the Thompson, Rutherford, and Bohr models. Explore the atom, which forms the foundation of Chemistry and learn about the mole concept to perform important chemical calculations. You will also analyse the modern periodic table and discuss the fascinating trends that arise from this ordering.

Module 2 -

Thermodynamics

in this module, the 1st and 2nd laws of thermodynamics, and the concepts of enthalpies and entropies of chemical reactions are introduced. Hess's law of chemical thermodynamics is discussed as well as the use of the heat of formation for forming compounds. Participants also discuss more abstract, but engaging, ideas, such as spontaneous and nonspontaneous reactions.

Module 3 -

Compounds, Hybridisation and VSEPR Theory

Twenty years prior to the development of quantum mechanics, G. N. Lewis introduced an organising principle in bonding known as the Lewis structures, which helps predict the covalent bonding pattern of atoms. It is also a means of visualising the atoms in a bond, and allows us to conceptualise bonding between different molecules. Molecular orbital theory (based on quantum mechanics) and hybridisation (combining of atomic orbitals) are other indicators of how molecules are structured, and provide a more detailed look into the mechanisms they may use to form compounds. Participants will also employ the Valence Shell Electron Pair Repulsion (VSEPR) theory to determine the angular inclinations of molecular structures.

Module 4 -

Personal Project

Throughout the fortnight, participants will be working on their own personal project. Having been provided with a brief, participants should research and prepare a presentation for their peers. This will build upon an aspect of the theory that they have learnt over the course of the programme and is also an opportunity to showcase the academic research skills they have developed. The presentation is followed by questions from the audience and wider class discussion of particular points of interest.
Want to learn more?
Download syllabus overview
Want to learn more?
Download syllabus overview
//= $text; ?>
13 nights accommodation in a central college of the University of Cambridge or Oxford
Breakfast and dinner in College Hall
Accommodation in an individual bedroom
40 hours of academic sessions from Oxford University and Cambridge University tutors
Carefully designed study and lecture materials
Mentor programme and access to support material
All excursions- including formal dinner at Cambridge/Oxford colleges, punting, croquet
Comprehensive summer school insurance
2 coach excursions including a trip to London
Graduation ceremony and certificate
Detailed evaluation written by tutor
Free premium membership to UniPrepare's 'Nurture' plan
Chemistry
Secure your place for Summer 2023
Enrol now
accreditation
Have a question?
Our expert team are ready to help.
Contact us