London
15-18
years old
Engineering
career insights
2 weeks • July 2024
Learn from industry professionals and get ahead in Engineering
Enrol now
Career-focused experience in the world of Engineering
Interested in a career in Engineering? The Immerse Education Engineering summer programme will allow you an insight into careers in the industry. Using project-based learning and practical study, you will research and explore real-world scenarios, working alongside other academically talented participants to innovate and pitch a groundbreaking solution.
Interactive workshops and networking events offer you the opportunity to learn from the professionals, to see where you would best fit in the industry. Learning from those at the forefront of their field, you'll receive industry feedback and personal career coaching to prepare you for future success.
Learn from exceptional institutions and industry leaders changing the world of business
On the Engineering programme, subject-focused days include visits and/or workshops with:
School of Coding
The Science Museum
Queen Elizabeth Olympic Park Tour & Talk
Transport for London: Secrets of the Underground
Crumble Robotics Workshop
Thorpe Park – The Science of Rollercoasters
Learning from those at the forefront of their field, you'll receive industry feedback and personal career advice to prepare you for future success.
Engage in thrilling industry workshops
Thorpe Park – The Science of Rollercoasters
Thope Park Resort is the ultimate destination for thrill seekers featuring some of the UK's most popular roller coasters and amusement park rides. Through a Ted Talk style exploration, you'll discover how crucial considerations of accelerations, Newton's Laws and Forces are in designing and maintaining the park's rides.
Queen Elizabeth Olympic Park
Queen Elizabeth Olympic Park is a sporting complex and public park in east London. It was purpose-built for the 2012 Summer Olympics and Paralympics. At the Olympic Park, students receive a guided tour to discover the stages and considerations involved in urban regeneration
Transport for London (TFL)
TFL secrets of the London Underground is an initiative from Hidden London, which explores 'forgotten' parts of the London Underground Tube network and goes behind the scenes at some of London's busiest stations. In this workshop, you'll explore the tunnels, learning what it takes to construct city-wide transportation with a huge number of variables and the changes in engineering over the years
School of Coding: Drone Coding and VR
School of Coding offers practical, hands-on VR, Robotics and Coding workshops to inspire the next generation of computer programmers. This is a chance to flaunt your inventive skills. Learn how to code your own drone, and then showcase your creation through an organised assault course with precision, and speed!
Sample Workshop Activities
Find out what it takes to work in the industry through real-world projects
You will explore concepts and share ideas in small groups of like-minded and ambitious peers from around the world. In classes averaging 7 students, you will be guided by expert project leads who offer an insight into their industry.
Our rigorous vetting process guarantees that all participants are taught by engaging and supportive educators who are, most of all, enthusiastic about sharing their expertise to ensure our summer school teaching is of the highest quality. Immerse™ is an unrivalled academic experience.
Average class size of 7

1:1 Career Coaching

Professional development workshops

World-class experience
Example tutor:
Nathan J
Nathan is a PhD candidate in the Bioelectronics Research Group at the University of Cambridge's Department of Engineering, has a Masters in Engineering (MEng) in Electronic Engineering and Nanotechnology from the University of York, as well as a Masters of Research (MRes) in 2d Materials from the University of Cambridge. Nathan specialises in biocompatible flexible electronics, conductive polymers, and 2d materials to realise state-of-the-art organic electrochemical transistors for neural interfacing.
Guest speakers from previous summers
Philosopher, author & journalist
Dr Nigel Warburton
How do great people find answers to deep and meaningful questions?
Former Olympian
Abi Oyepitan
A two-time Olympian and Commonwealth Gold and Silver winning track and field athlete.
Neuroscientist & entrepreneur
Dr Lynda Shaw
A journey in personal development - how to create your own set of tools to fast track success
08
School Of Coding
Immerse Education is proud to be partnering with School Of Coding, whose aim is to inspire and excite students across the UK about the possibilities of studying computer science.
Recently featured on BBC News, School Of Coding aims to inspire students and create future tech leaders with fantastic educational, hands-on workshops. 
Our Career Insights students have the opportunity to explore coding with School of Coding, where they will learn about the use of coding using real-world examples and explore computer science as a branch of the vast and ever-growing engineering career path.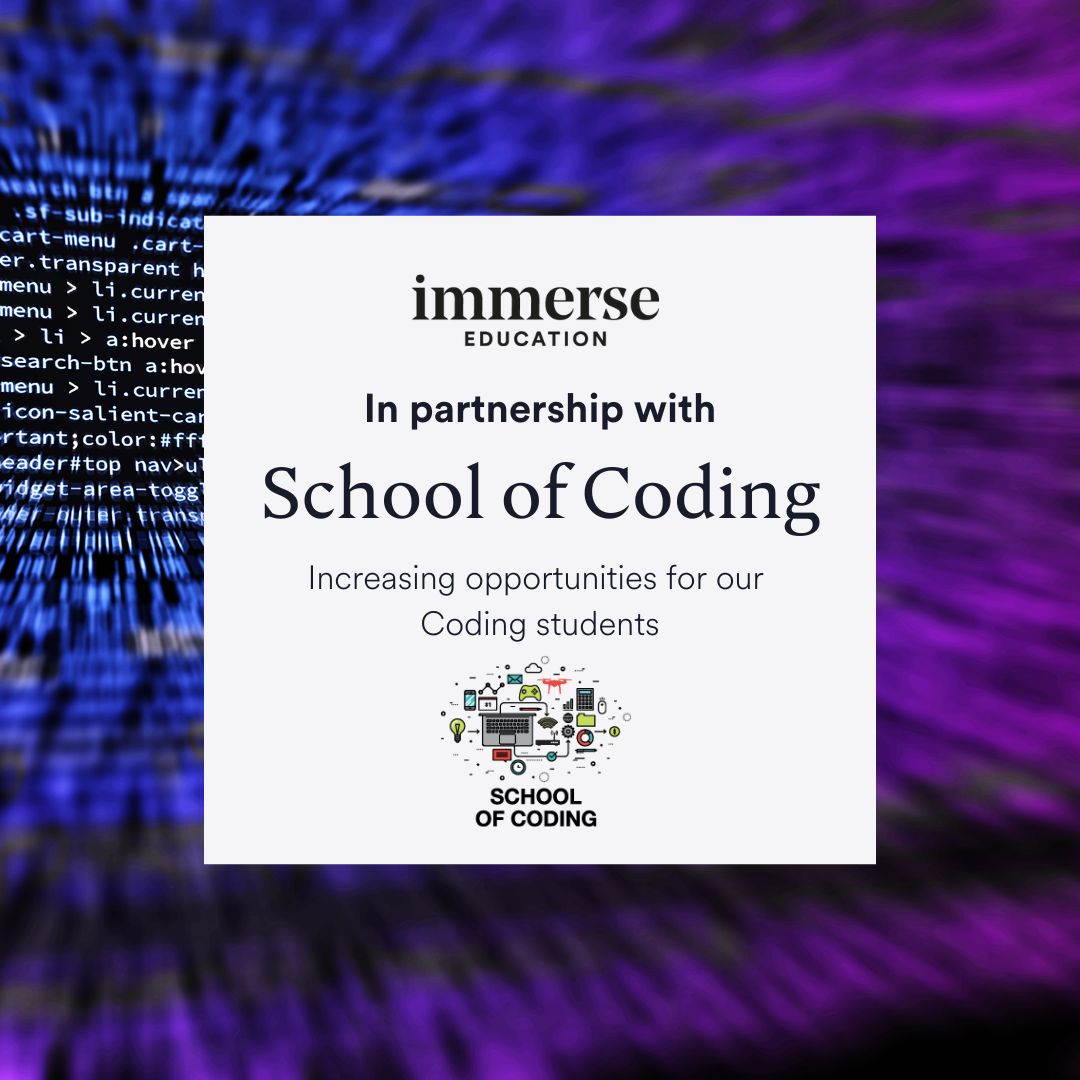 Reviews
Our Alumni says
Our tutor was amazing. He knew the answer to every question that you could think of about engineering, and knew about everyone's specialist subjects and was happy to discuss opportunities in each field with us.
My favourite aspect of the programme would be going on trips such as the tour of the London Underground, and how engineering plays such a vital role. It's so much easier to learn and focus when there's something that's always keeping your attention rather than just having to focus only on lectures and classroom learning.
The thing that I found the most fun was socialising with everyone, whether it's engineers or the medics or business people. We've only known them for two weeks, and this sounds so cheesy, but I feel like I've known them for years because we're always together, we're always helping each other.
Career Insights Engineering Participant
Immerse™ Engineering Sample Modules
Module 1 -

Theory & Research

This introductory module introduces key concepts in the fields of engineering. You will examine real-world data, recent developments in the industry and innovative case studies across civil, mechanical, sustainable and aerospace engineering. You will learn how to use your data and research in product development, and practise presenting your insights in a professional setting.

Module 2 -

Practical Experience

Exposure to the industry brings future careers to life. Workshops may include a session with the Dyson Institute, a robotics master class with the School of Coding plus visits to industry heavyweights like Jaguar Land Rover or Transport for London. You'll get to see for yourself the engineering innovators that are changing the face of the industry.

Module 3 -

Real-World Project

As part of the engineering programme, your job is to offer an innovative solution to improve transport around London. You'll begin by examining the problem and speaking to those it most impacts, for example meeting with Transport for London and London Assembly. You'll investigate existing solutions and work on product development, taking into account available technology, budget and timeframe. The programme culminates in an opportunity to pitch your product or service to industry professionals.

Module 4 -

Professional Development

Bridging the gap between education and the world of work, this module offers an insight into existing and emerging careers in engineering. These sessions are made up of guest lectures and expert panel discussions with speakers from world-famous institutions like MIT, Stanford University and the University of Cambridge, and experience at leading companies like Airbus, Siemens and Rolls-Royce.
Want to learn more?
Request a syllabus overview
Want to learn more?
Request a syllabus overview
Experience London Life
Unbeatable excursions
The Career Insights timetable includes a fantastic social and cultural programme with the following excursions:
Visit iconic London landmarks
Explore a world-famous museum after dark
Learn new skills at an indoor skate park
Catch award-winning theatre on the West End
Experience exceptional urban regeneration at the Olympic Park
Experience London Life
Live and study in
London
Live in the Heart of London
Career Insights takes place in our capital city, renowned as a hub of creativity, innovation and vibrant culture.
Home to more iconic buildings and landmarks than any other place in the world, London is a place to be inspired and enjoy direct access to the industries of the future.
Dynamic and comfortable accommodation
Career Insights students will stay at Astor College. UCL's award-winning student accommodation in the heart of Fitzrovia, with iconic London locations at walking distance in every direction.
The residence boasts of modern communal lounges a furnished outdoor courtyard and attractive open plan dining areas.
This will be your home away from home as you engage in an exciting industry-focussed programme to help shape your future.
World-class facilities
With accommodation perfectly placed to explore the sights and sounds of our capital city, living in London means being connected with world-famous universities and iconic landmarks.
Located between Bloomsbury and Kings Cross, we make the most of our great location with visits to industry hubs across the city, enjoying the incredible food, culture and history on offer.
Our accommodation offers a comfortable, convenient base from which to explore the city.
Pastoral care and safety
An accredited provider of academic short courses
Immerse Education is accredited by the British Accreditation Council (BAC), the leading mark of educational quality for the academic sector. Our accreditation with the BAC sends a positive and clear message to students and partners that they are studying with a trusted and reliable provider who has met a series of globally recognised quality assurance standards, both in terms of academic provision and student welfare.
The safety and well-being of our participants is our number one priority, and all staff undergo enhanced background checks and receive thorough safeguarding training before interacting with any students.
For more information, please visit our Pastoral Information page.
Meet Immerse's mentors and
college managers
All of our team members are approachable and supportive. Check out some of our previous team:
Eliza's infectious enthusiasm - from the academic sessions to the talent show -means that she's a firm favourite amongst Immerse students.

Dylan has been both an Immerse Mentor and a College Manager twice! He's known for going the extra mile to make the Immerse experience exceptional.

Ore participated in Immerse as a student before joining the team whilst studying at Cambridge, relating her Immerse experience to new students.

Maia is a Cambridge University Theology student who participated in the Immerse Philosophy programme.

Murray is an enthusiastic Medicine student at Cambridge University, who is always eager to help Immerse students make the best of their experience.

Olivia studies Medicine at Cambridge and has a knack for making friends with each of her mentor 'family' - creating a home away from home.
30th June – 13th July 2024
//= $text; ?>
13 nights accommodation in central London
Breakfast and dinner included on campus (lunch included for students aged 13-14)
Visits to leading industries
40 hours of project sessions from subject experts
Real-world project workshops
Full and half day excursions to iconic London landmarks
Formal dinner at a top London restaurant
Graduation ceremony and certificate
Detailed Career Development Plan from your personal coach
Comprehensive summer school insurance
Engineering
Secure your place for Summer 2024
Enrol now
accreditation
Have a question?
Our expert team are ready to help.
Contact us