San Francisco
15-18
years old
Entrepreneurship
career insights - san francisco
2 weeks • July 2024
Learn from industry professionals and get ahead in Entrepreneurship
Enrol now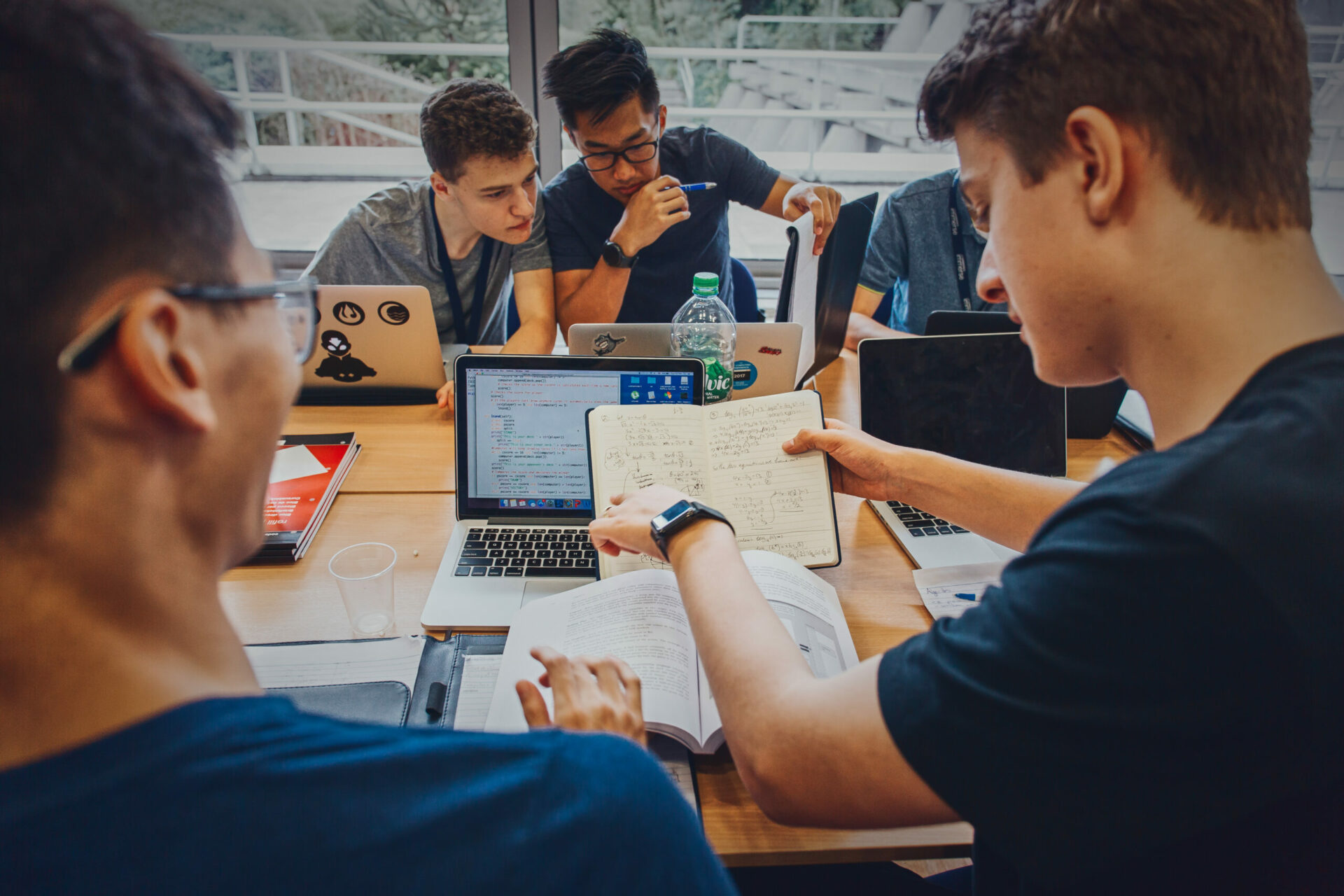 Entrepreneurship Summer Programme for High School Students in San Francisco
Travel to the renowned startup ecosystem of San Francisco to unleash your innovative spirit with the Immerse Education Entrepreneurship Career Insights Programme. Dive into the realm of venture creation, strategy shaping, and business innovation. In the heart of California's famed startup ecosystem, refine your entrepreneurial acumen, learn from industry leaders, and embark on a journey to redefine business landscapes.
Immerse Education's Entrepreneurship Programme in San Francisco is tailored for high school students aged 15-18 Immerse yourself in the realm of innovation, strategy, and business acumen. This entrepreneurial journey not only provides valuable insights into the creative aspects of business, but also equips you with the practical skills to navigate the growing world of youth entrepreneurship.
An Exceptional Entrepreneurship Summer Course
The Immerse Education Entrepreneurship programme embarks on a transformative exploration of the innovative and ever-evolving world of startups and entrepreneurship. With a primary goal of igniting participants' entrepreneurial spirit, this programme seeks to delve into the intricate ecosystems that nurture startups, dissecting business models, and harnessing the potential of disruptive technologies.
Participants will experience co-working spaces, entrepreneur meetups, and dynamic challenges designed to foster creative thinking. By seamlessly intertwining theoretical insights with practical problem-solving, participants will develop the hard skills needed to thrive within the dynamic startup landscape.
Through interactions with industry experts, participants will develop the confidence to drive impactful change in the world of entrepreneurship, armed with innovative ideas and the capability to navigate the complexities of the startup ecosystem.
Engage in Creative Entrepreneurship Workshops
Work with a leading startup accelerator in our entrepreneurship workshop. Students can interact with startup founders, learn about ideation, and explore the startup ecosystem. This workshop provides insights into the journey of building and scaling successful startups.
This module provides a foundational overview of the key theories about what is behind success in the field of entrepreneurship. Topics may include:
Introduction to Entrepreneurial Principles & Innovation Theories
Business Model Analysis and Market Entry Strategies
Disruptive Tech Insights
Mastering the Art of Pitching and Investor Presentations
Navigating Organizational Structures in Founder-Led Startups
Enrolling on our programme will mean industry visits like a tour of Silicon Valley, Google, Apple and Ebay campus, and Standford University, and will provide an unmatched opportunity for students to experience the epicenter of entrepreneurship and innovation.
Visiting renowned tech companies, co-working spaces, and startup incubators, participants can witness firsthand the spirit of creativity, risk-taking, and disruptive innovation. Engaging with entrepreneurs, investors, and tech experts, students gain insights into the process of idea generation, funding, and scaling a business in the fast-paced world of tech startups.
Sample Workshop Activities
Example tutor:
Nathan J
Nathan is a PhD candidate in the Bioelectronics Research Group at the University of Cambridge's Department of Engineering, has a Masters in Engineering (MEng) in Electronic Engineering and Nanotechnology from the University of York, as well as a Masters of Research (MRes) in 2d Materials from the University of Cambridge. Nathan specialises in biocompatible flexible electronics, conductive polymers, and 2d materials to realise state-of-the-art organic electrochemical transistors for neural interfacing.
Special Speakers from previous summers
Former Olympian
Abi Oyepitan
A two-time Olympian and Commonwealth Gold and Silver winning track and field athlete.
Neuroscientist & entrepreneur
Dr Lynda Shaw
A journey in personal development - how to create your own set of tools to fast track success
Philosopher, author & journalist
Dr Nigel Warburton
How do great people find answers to deep and meaningful questions?
08
School Of Coding
Immerse Education is proud to be partnering with School Of Coding, whose aim is to inspire and excite students across the UK about the possibilities of studying computer science.
Recently featured on BBC News, School Of Coding aims to inspire students and create future tech leaders with fantastic educational, hands-on workshops. 
Our Career Insights students have the opportunity to explore coding with School of Coding, where they will learn about the use of coding using real-world examples and explore computer science as a branch of the vast and ever-growing engineering career path.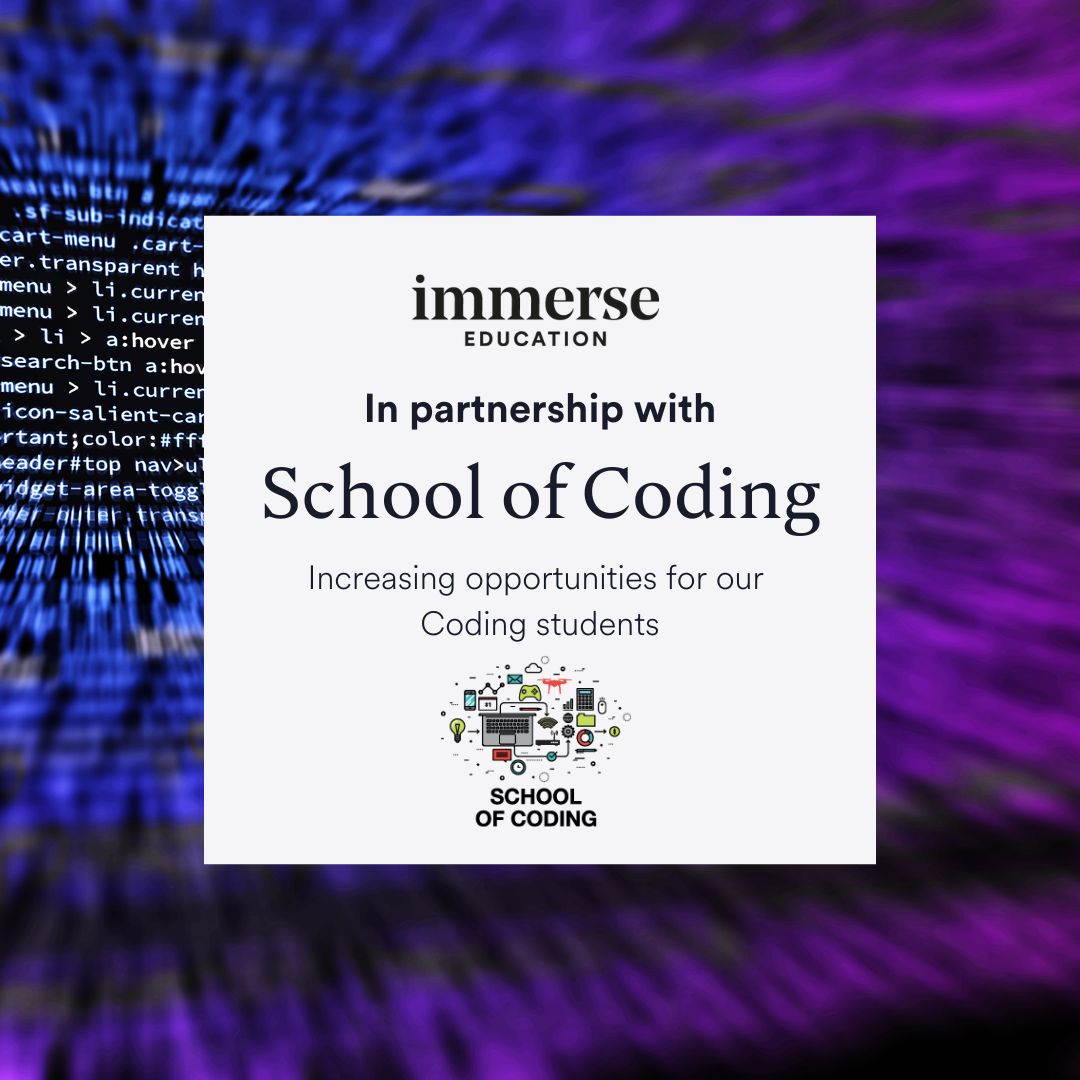 Reviews
Our Alumni Says
I've enjoyed meeting new people with Immerse, people who have different passions than I do and are studying different courses – I have learned a lot from them.
Lady Margaret Hall, the college I'm staying in, is such a beautiful college. It's got so many different areas we can study and play and have fun. I've also been learning so much about computer science, which is something I really enjoy.
I'm finding the course content extremely useful. I've learned so much in these two weeks and we've covered so many new topics that I hadn't heard of. The relationship with my teacher has been fabulous – I can communicate with him very easily, and the teaching style is what I had expected, with university-style teaching methods.
I think this program has really helped me to to change my ideas about what I could expect from university, and it's really helped me to make sure I enjoyed what I want to study in the future.
Residential Computer Science (16 - 18)
Immerse™ Entrepreneurship Sample Modules
Module 1 -

Theory & Research

Embark on an introductory module that immerses you in the fundamental aspects of entrepreneurship and innovation. You'll explore the components of successful startups, examine disruptive innovation models, and understand the intricacies of business growth. This module provides a foundational overview of the key theories about what is behind success in the field of entrepreneurship.

Module 2 -

Practical Experience

Engaging in practical experiences focused on entrepreneurship in San Francisco provides a firsthand understanding of the startup ecosystem. Site visits to innovation hubs, co-working spaces, and entrepreneur meetups will immerse you in the culture of innovation, idea generation, and pitching to investors. You'll have the opportunity to explore emerging industries and disruptive technologies that fuel entrepreneurial endeavours.

Module 3 -

Real-World Project

Ignite your entrepreneurial spirit by developing and validating a startup concept that addresses a contemporary challenge. From ideation and market analysis to business model creation, you'll craft a robust entrepreneurial proposal ready for potential implementation and develop the interpersonal skills that will enable you to build a powerful entrepreneurial network.

Module 4 -

Professional Development

Creating a connection between learning and real-world innovation, this module unveils the gamut of opportunities in entrepreneurship. Comprising guest talks, expert panels, and workshops on startup ecosystems and business model innovation, you'll foster essential skills. Tailored coaching sessions offer personalized insights and a roadmap for your career journey, ensuring enduring benefits beyond your involvement in the Entrepreneurship Insights programme.
Want to learn more?
Request a syllabus overview
Want to learn more?
Request a syllabus overview
Explore San Francisco with our Social and Cultural Programme
San Francisco Summer School Programme with Immerse Education offers an enriching and immersive educational experience in one of the world's most iconic cities. Beyond classroom learning, students have the unique opportunity to explore and appreciate the rich cultural and historical heritage of the bay area, San Francisco.
Visit famous landmarks such as the Golden Gate Bridge, Alcatraz Island, and Pier 39, or enjoy an iconic baseball game. These excursions not only provide students with a deeper understanding of the city's history but also foster a sense of adventure and exploration, making the educational experience at enrolling in a San Francisco summer programme with Immerse, a truly unforgettable.
Pastoral care and safety
An accredited provider of academic short courses
Immerse Education is accredited by the British Accreditation Council (BAC), the leading mark of educational quality for the academic sector. Our accreditation with the BAC sends a positive and clear message to students and partners that they are studying with a trusted and reliable provider who has met a series of globally recognised quality assurance standards, both in terms of academic provision and student welfare.
The safety and well-being of our participants is our number one priority, and all staff undergo enhanced background checks and receive thorough safeguarding training before interacting with any students.
For more information, please visit our Pastoral Information page.
Meet Immerse's mentors and
college managers
BA (Ecole Normale Superieure de Cachon), MSc (College of Europe, Universite Paris-Dauphine), PhD (Universite Paris-Dauphine)

Dylan has been both an Immerse Mentor and a College Manager twice! He's known for going the extra mile to make the Immerse experience exceptional.

Hi There! My name is Elaine and I'm going to be a second year student at the University of Toronto. Im hoping to pursue my studies in psychology, biology and physiology.

Ian is an Economics student at the University of Toronto in Canada where he is part of the interregional football/soccer team.

Freya is a third year Medical student at St John's College, Oxford University. She is a keen runner and cyclist and has recently enjoyed taking up college rowing.
//= $text; ?>
13 nights accommodation in San Francisco
Visits to leading industries
20 hours of project-based learning by subject experts per week
20 hours of industry-focused visits per week
Real-world project workshops
Excursion days to iconic San Francisco iconic landmarks
Completion of personal project and certificate
Detailed Career Development Plan from your personal coach
Entrepreneurship
Secure your place for Summer 2024
Enrol now
accreditation
Have a question?
Our expert team are ready to help.
Contact us