Cambridge
16-18
years old
Female Future Leaders
symposia
2 weeks • July to August 2024
A multi-disciplinary programme developing key leadership skills for ambitious young women
Enrol now
Female Future Leaders Summer School in Cambridge
Accredited by The Institute of Leadership and Management, the Immerse Education Female Future Leaders summer programme offers a multi-disciplinary exploration of leadership for engaged and motivated young women. The programme encompasses a range of subjects from STEM subjects to entrepreneurship, business and beyond, while also offering students coaching and mentoring from leading tutors.
Over the course of two weeks, you will explore a broad range of subjects at the university level, designed to support young women to build the confidence and skills of future leaders.
The course structure is underpinned by the development of the LEAD skills which include: leadership, emotional intelligence, adaptability and development.
In addition to partaking in exciting cultural activities, you will dive into subjects like as politics, business, law and science, through a series of interactive lectures and workshops that are designed to develop your leadership skills. Over the course of two weeks, you will explore the role of women in the progress of these subjects guided by expert tutors.
The Institute of Leadership and Management
The Institute of Leadership and Management is a professional body that helps unlock individual and business potential. The Institute is the professional membership body for an active, international community of over 50,000 leaders, managers, coaches and mentors – but they are much more than a professional body. They create world–class tools, deliver award–winning e–learning and undertake practical research to help unlock individual leadership potential.
Immerse Education students who complete a Female Future Leaders programme are jointly recognised by the Institute of Leadership and Management for having undertaken an Institute-accredited course. This means students can join the Institute, and have access to a range of leadership development resources. Alumni who choose to join the Institute will also be eligible to use the Institute's post-nominals.
03
Explore a broad spectrum of subjects
During this two week programme, you will explore a broad range of subjects and skills and understand how you can be part of the decision-making both today and in your future career. Expert tutors from world-leading universities will teach you about Business, Politics, Law and Science and the important role that women have to play in defining our future.
You will learn more about navigating the workplace, women in leadership, competitive advantage and more. By the end of the course you will develop the skills, through careful guidance, to provide a presentation for the conference activity.
Experience a series of interactive lectures and workshops that are designed to further your learning and leadership skills. Discover the role of women in the progress of these subjects with guidance from expert tutors.
Learn from female academics, leading experts in their fields
Supported by university tutors representing a broad range of academic fields, you will explore theories of gender and intersectionality through a series of case studies from around the world. In doing so, you'll develop critical analysis skills and take part in a series of practical workshops that develop your skills both as a team-player and as a leader.
Our female tutors and guest speakers are leading experts in their field, carefully selected for their knowledge and passion within their subject, as well as their experience teaching undergraduate students.
Boost your confidence and develop your skills in practical workshops
Our workshops are geared towards unlocking participants' potential, giving them the tools to prepare for the next steps of their education, and future goals. Throughout the programme you will be provided with support for the delivery of a presentation for the conference activity. Build upon existing study skills to support future university-level learning while developing valuable new skills for the future world of work.
These workshops explore a diverse and enriching range of topics – past examples have ranged from 'Productivity tips' to '21st Century Technology Skills', we're sure that you'll learn something completely new. Unlike traditional schools, Immerse will give you the opportunity to learn beyond the traditional curriculum.
Sample tutor:
Lesego Letlapeq MBA
Before joining Bloomberg as a Consultant in London, Lesego completed an MBA at the Cambridge Judge Business School.
Lesego has also previously worked with McKinsey & Company in their various offices Globally.
Lesego returned as a Business Management and Female Future Leaders Tutor in 2022 after teaching in the summer of 2019 for Immerse Education at the University of Cambridge. In addition to working at Bloomberg, Lesego is a Director at Aray, a Social Enterprise, is an avid reader and runner.
Special Speakers from previous summers
Each week participants will hear from an inspirational speaker. Meet some of our previous guests:
Neuroscientist & entrepreneur
Dr Lynda Shaw
A journey in personal development - how to create your own set of tools to fast track success
Former Olympian
Abi Oyepitan
A two-time Olympian and Commonwealth Gold and Silver winning track and field athlete.
International training consultant and motivational speaker
Kate Atkin
Success: What lies behind the mask? An informative and inspiring talk exploring courage, confidence and the imposter syndrome
Reviews
Testimonials
I really wanted an opportunity to expand my academic portfolio. A simple Google search led me to the Immerse essay competition, and I thought that it would be really great for me because there were a lot of opportunities to explore subject-based ideas in my essay submission.
We've learned about intersectionality, womanism, which is a subsection of feminism, and we've learned about unconscious bias misogyny. I feel like all of these things are current in real life and are relevant topics that we should be aware of.
My confidence has increased a lot with this course – I've been encouraged about public speaking, and I've learnt more about eloquence and taking opportunities as they come.
Female Future Leaders Participant
Testimonials
I've been learning mostly about the disadvantages and advantages a woman faces in the workplace and how to navigate those situations, how to use the skills that I have, and how I can adapt what I'm doing on the programme and bring it into real life scenarios in the future. My favourite part of the program was definitely the people that I've met and the different cultural backgrounds, especially in the future female leaders program there are so many people that have different experiences and have come from different places that have different levels of rights and representation – it's been really incredible.
The Female Future Leaders programme was an incredible experience. It really broadened my horizons, especially if you have issues with public speaking and confidence – it's really helped with that.
Female Future Leaders Participant
Work hard, play hard.
Action-packed social programme
Outside of lessons, we are proud to offer a busy and diverse social programme to help you get the most out of your time in Cambridge. This includes activities such as punting on the River Cam, zorb football and a murder mystery night in the college.
There are also two excursions during the programme, one day trip to visit Oxford and its constituent colleges, as well as an optional day out in London, seeing the city's most famous landmarks as well as some free time for shopping. Those who choose not to travel to London are invited to afternoon tea in Cambridge.
Activities and excursions are run by our team of friendly mentors – whose main job is to maximise your enjoyment.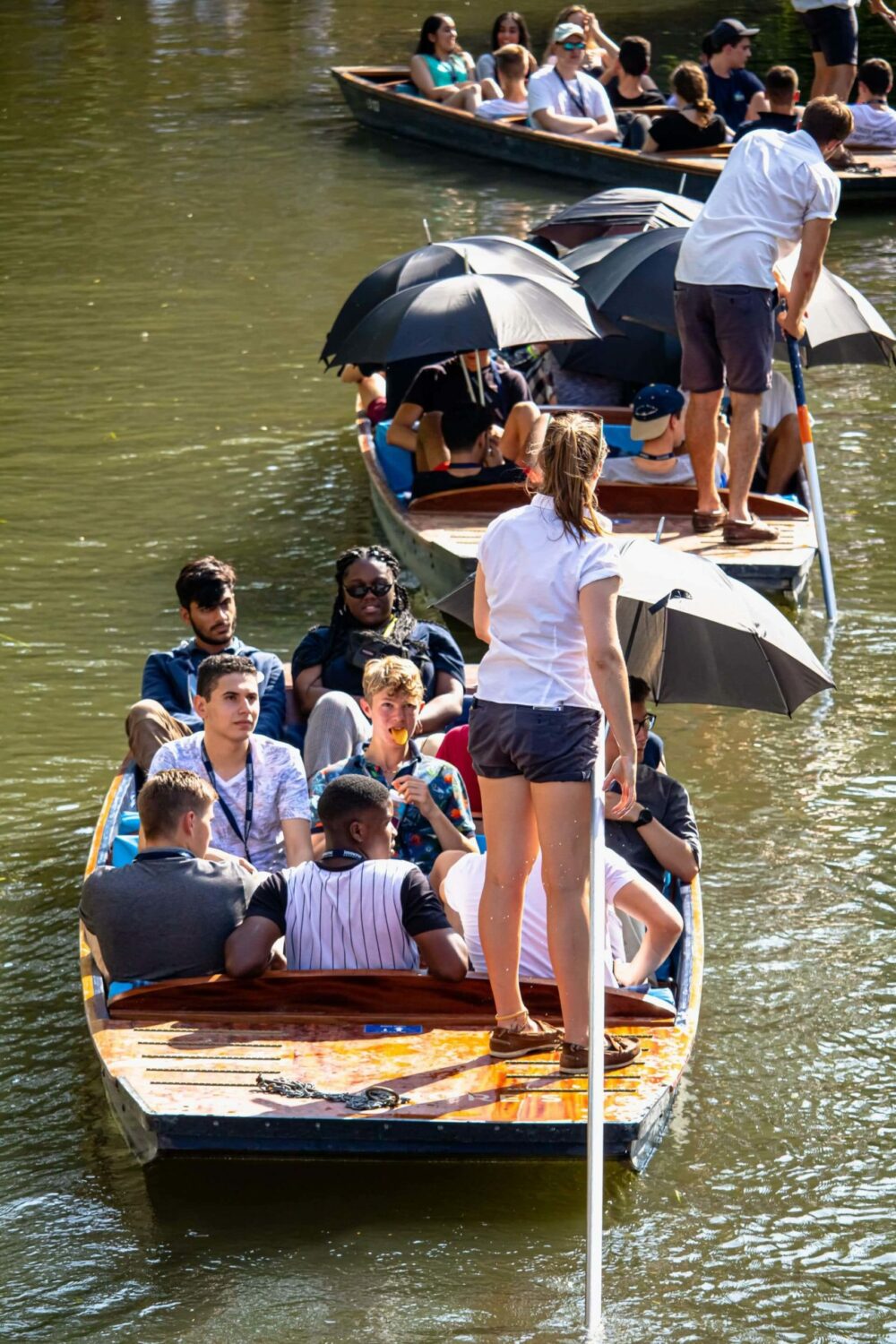 Work hard, play hard.
A unique social programme.
Experience traditional 'Formal Hall'
Formal Hall is a traditional weekly meal that takes place in every college. This is an opportunity for students to dress up, dine by candlelight in the magical surroundings of a Cambridge college's dining hall.
As an Immerse student, you will experience formal dinner three times during your stay – once per week in Cambridge, as well as in an Oxford University college on the excursion day.
Formal hall is truly a memorable occasion, so remember to bring some smart clothes!
A unique social programme.
Live and study in a
Cambridge University College
Experience life as a Cambridge University undergraduate
All participants will be allocated to a college a few weeks before arriving, based on their dates and subject choice.
If you would like to stay in the same location as a friend/sibling – please let us know and we will do our best to arrange this, where possible.
Males and females have separate accommodation in every college, and there is wi-fi available throughout.
For more information, please visit this page.
Pastoral care and safety
An accredited provider of academic short courses
Immerse Education is accredited by the British Accreditation Council (BAC), the leading mark of educational quality for the academic sector. Our accreditation with the BAC sends a positive and clear message to students and partners that they are studying with a trusted and reliable provider who has met a series of globally recognised quality assurance standards, both in terms of academic provision and student welfare.
The safety and well-being of our participants is our number one priority, and all staff undergo enhanced background checks and receive thorough safeguarding training before interacting with any students.
For more information, please visit our Pastoral Information page.
Female Future Leaders Sample Modules
Module 1 -

Competitive Advantage and Innovation

How do companies differentiate themselves and create value in competitive industries? You'll explore how companies utilise innovation in order to remain competitive and consider both success and failure case studies. Your team will then be tasked with a brief and must present a pitch to your peers which puts the theory you have learnt into action!

Module 2 -

Global Environmental Change

Earth is threatened by human impact as never before. This workshop explores key global environmental issues such as climate change, land use, exploitation and pollution. You will learn to critically evaluate the drivers of change on vulnerable ecosystems. The workshop will conclude with a debate on the best approach to tackle climate change.

Module 3 -

Public Speaking

What makes a good orator? What lessons can we take from some of the world's finest public speakers? This session will improve your ability to deliver empowered and informative speeches in front of crowds of other people.

Module 4 -

Conference Activity

Develop the clear argument and presentation skills to showcase your thoughts and ideas about female leadership during the final outcome-based activity of the programme. Working in small groups, with dedicated guidance from your tutor, you will develop your teamwork, negotiation and research skills. This will culminate in a final conference activity where you will be able to experience a professional presentation setting and demonstrate the skills you have improved over the course.
Want to learn more?
Download prospectus
Want to learn more?
Download prospectus
//= $text; ?>
13 nights accommodation in a central college of the University of Cambridge
Breakfast and dinner in College Hall
Accommodation in an individual bedroom
40 hours of academic sessions from Oxford University and Cambridge University tutors
Mentor programme and access to support material
Carefully designed study and lecture materials
All excursions- including formal dinner at Cambridge/Oxford colleges, punting, croquet
Comprehensive summer school insurance
2 coach excursions including a trip to London
Graduation ceremony and certificate
Detailed evaluation written by tutor
Female Future Leaders
Secure your place for Summer 2023
Enrol now
accreditation
Have a question?
Our expert team are ready to help.
Contact us