Home » University » Best Universities In The World
5 Best Medical Schools in the World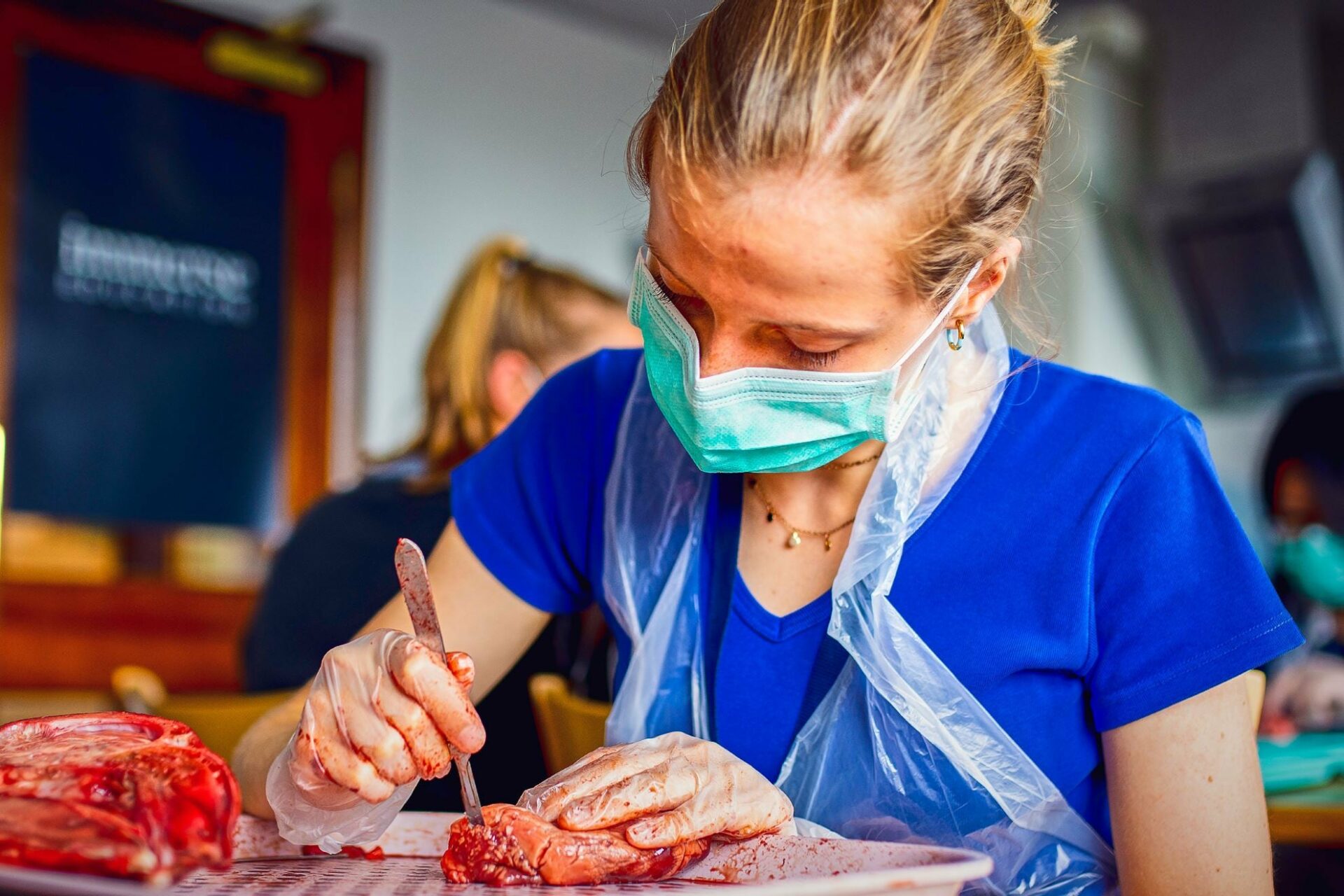 Back
Since humanity has a vested interest in caring for its health, you won't be surprised to learn that there are many, many medical schools in the world where you can learn to heal the sick.
So how do you, a bright young future physician, decide where to apply?
The way I did was the same way that countless others have done before me. We looked at the league rankings for medical schools, picked a few with realistic entry requirements, and then visited to see if we liked them. Then we applied if we did.
Related Read: How Important Are UK University League Tables?
But here's the rub. Those league rankings aren't designed for us. They're designed for them. Do you as a student really care if your uni has a great research output? Does it matter how often that research is cited? Unless you're interested in doing some research of your own, these metrics aren't very relevant.
Teaching quality, student:educator ratios and student satisfaction are the only statistics that I've seen on these league tables that actually matter to me for my purposes as a prospective student.
Obviously, the solution is for you to do a lot more research. Look into student experiences, accounts of what life is truly like in those cities. But that's a lot of work, a lot of reading…
I have a more elegant idea. Imagine a league table, constructed by student unions in medical schools across the world, using standardised questionnaires to collect data relevant to student life. Things like the price of a loaf of bread; the number of discount stores in the vicinity; or the quality of public transport.
And, just to prove that such a vision is possible, I've collected the world's top 5 medical schools in the latest Time Higher Education table and ranked them according to a metric very close to my heart. This statistic plays such a huge part in my medical student life, that I wish I'd thought of it years ago when I was applying:
The availability of the humble kebab shop. (Yes, I'm being serious.)
Methodology
After many, many minutes of work, I have developed the Doner Kebab Index (DKI):
DKI = 100 – log((P ✕ M) ÷ K)
'K' represents the number of kebab shops in the university city. I defined this as the number of kebab shops, specifically listing doner kebabs on their menus, judged by Google Maps to be 'nearby' to the city centre. Gyros and shawarma, while worthy kebabs in their own right, did not count.
I like me some doner meat and salad, on a bed of chips, all drizzled in garlic sauce. No alternative soothes me in quite the same way after a long week of pretending to be a doctor.
Related Read: Top 10 Reasons To Be A Doctor
Because bigger cities probably have more kebab shops, I decided to try and control for this so the comparisons would be fair. Defining a city's 'bigness' by its population (P), the formula includes a step where K is divided by P to produce a measure of 'kebab shops per kapita'.
Next, I wanted to compare K, now adjusted for city population, to the number of medical students, M. This is where the 'K ÷ (P ✕ M)' came from. You'll notice that it's backwards in the formula, but that's because the original produced tiny numbers that wouldn't make any intuitive sense to people. So, I found the reciprocal of 'K ÷ (P ✕ M)' and introduced a log function, producing numbers which were negative but much bigger and easier to understand.
Finally, I wanted to make the numbers positive so that they were even easier to interpret. Subtracting the 'log((P ✕ M) ÷ K)' from 100 actually has the effect of producing a percentage score. If we imagine a perfect scenario, in which the adjusted number of kebab shops equalled the number of medical students:
K ÷ P = M
Therefore:
log((P ✕ M) ÷ K) = log((P ✕ K ÷ P ) ÷ K) = log(K ÷ K) = log(1) = 0
So in the ideal kebab:medic scenario, the DKI would be:
100 – 0 = 100
This formula assumes that there are fewer kebab shops than both medical students and people in the city. If K gets bigger than P ✕ M, the numbers stop making sense.
But this would only happen if huge swathes of the population either left or died. Or if there's some weird government drive to build more kebab shops, with no plan to employ people to run them…
Okay, but you're probably thinking isn't the university medical application pretty difficult? Well, you're right if you're thinking you want to stay ahead of your medical peers in school and that's why you should check out this how to write a medical personal statement guide.
1. University of Oxford
Course name: Medicine
Location: Oxford, United Kingdom
Best Feature: Specialised Research Year
Fees: £9,250 per year in tuition fees for home or EU students
DKI: 93.38%
If you're after the old school approach, Oxford has the answer. Maintaining the traditional divide between preclinical and clinical studies, this course also has the additional benefit of giving you a year to specialise in two biomedical science fields of your choice. Every student conducts an independent research project, before embarking on their clinical training at either the Oxford Clinical School or one of London's many medical schools.
2. University of Cambridge
Course name: Medicine
Location: Cambridge, United Kingdom
Best Feature: Anatomy teaching by cadaveric dissection
Fees: £9,250 per year in tuition fees for home or EU students
DKI: 93.36%
Basically identical to the way Oxford does things, but with slight tweaks. Preclinical studies are confined to years 1-3 while clinical stuff occupies 4-6, just like the Other Place. However, the pride of the Cambridge course is the use of cadaveric dissection to teach anatomy.
As a purist, I strongly believe in the humble dissection as the best way to learn the architecture of the human body. Furthermore, the specialised year at Cambridge allows you to pick any subject – not just the biomedical ones – with the choice of either conducting a research project or a dissertation at the end of the third year.
Tip: If you're looking to go to Cambridge then we would recommend going on a Cambridge summer camp for high school students.
Let's not forget that hallowed Oxbridge experience, though! All the pomp and ceremony is here, from our gowned formal dinners to holding some old, Latin-speaking dude's finger before you graduate. This place ties you up in its culture and history with all its ancient, brilliant and sometimes silly traditions. It's a laugh, honestly.
To wrap up this section, I ought to mention that the clinical portion of the course takes place in the Cambridge School of Clinical Medicine, with placements at nearby regional hospitals.
3. Stanford University
Course name: MD Program
Location: Stanford, California, USA
Best Feature: Range of Dual Degree Programs
Fees: $19,399 per quarter for tuition
DKI: 93.07%
The Stanford cohorts are quite small, with an intake of around 100 students each year, enhancing that sense of togetherness as they limp on towards the rest of their lives…
In addition, Stanford offers an impressively flexible course with a multitude of different paths, including several dual degree programs – ideal for those of you wanting a whole alphabet after your names!
4. Harvard University
Course name: MD Program
Location: Cambridge, Massachusetts, USA
Best Feature: Choice of Science-heavy and Science-light options
Fees: $95,055 per year, including living expenses and tuition
DKI: 92.58%
Named after Cambridge alumnus John Harvard, this university is the oldest higher education institution in the United States. Its medical school is also highly regarded around the world, with its two 'tracks' to the MD degree. One is just a pretty standard "let's be physicians!" kind of approach.
The other, run jointly with MIT, is rigorous in its scientific basis and prepares its students for research alongside clinical practice. Certainly a great choice if you're looking to push the boundaries of medicine!
5. Johns Hopkins University
Course name: MD Program
Location: Baltimore, Maryland, USA
Best Feature: Seamless integration of social sciences alongside the biomedicine
Fees: $85,826 per year on average
DKI: 91.83%
Finally, we come to Hopkins. Pretty famous and prestigious in its own right, but well known to House fans as the medical school attended by Hugh Laurie's titular character. The MD program here tries its best to integrate not only the basic sciences with clinical experience, but the social sciences too. If you're after the bigger picture, Hopkins is a sound option.
So after an unorthodox start, we've ended up right where the orthodox would've taken us. Except, you now have a better idea of which world-leading medical schools are best for kebab-lovers! League tables are useful for picking your destination, but it's also important to bear in mind the factors that matter to you personally – even if they're as objectively silly as kebab availability!
Interested in pursuing Medicine at University?
We hope you found the above post interesting. Are you a high school student fascinated by Medical Technology? Sign up for our award-winning Medical Summer School where you will dive deep into the rapid advancements in Medical technology.
Subscribe to the Immerse Education newsletter
We'll send you our company updates and latest news. Subscribe for free by completing the form below.