Home » University » How To Write A UCAS Personal Statement?
What Not To Put In A Personal Statement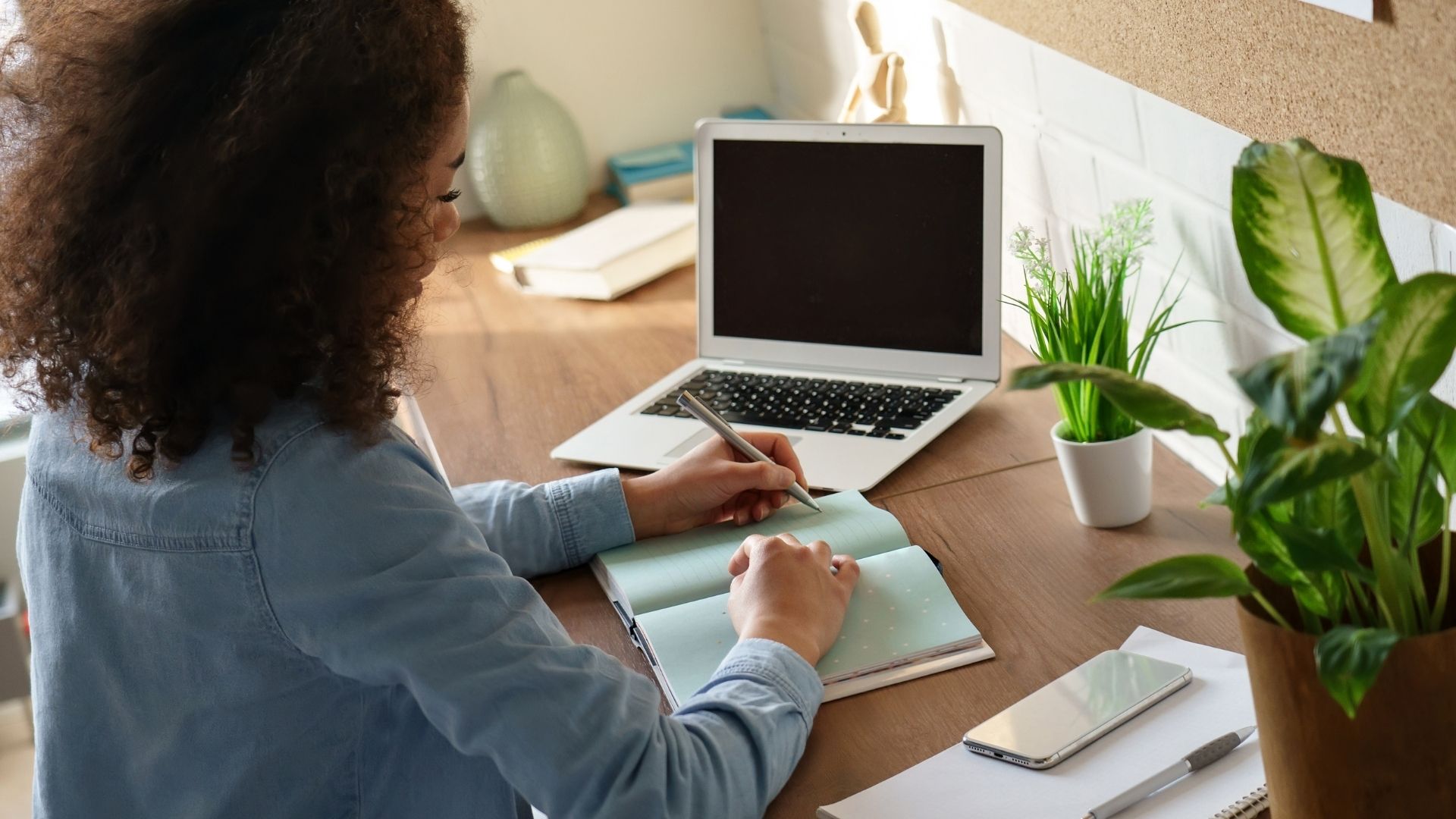 Back
Are you wondering what not to put in a personal statement? If you are then this is the guide for you!
A personal statement can be thought of as an essay that you write to describe who you are. The content of a personal statement is one of the most critical factors in determining if you have a chance to be accepted to your chosen university.
It's no secret that there are wordings and styles of writing you should avoid putting in your personal statement. A single sentence written out of context can potentially ruin your personal statement!
So if you want to avoid that from happening, you need to go over this list, discussing what not to put in your personal statement.
Let's crack on!
Claims With No Evidence
You might be thinking, "What could possibly go wrong with listing down what I'm good at?" Well, for one, listing down your strengths without evidence is a fatal mistake.
Related Read: How To Write A Personal Statement?
If you say you have good leadership skills, why not write down the awards you received to back up your claim? Mentioning prominent positions you've had in your organisations is also an excellent way to prove your skills.
Listing down your strengths without evidence shows poor credibility on your part. Remember this when you're thinking of what not to put in a personal statement!
Skills Or Extracurricular Activities Irrelevant For Your Course
You've listed down your strengths with sufficient evidence to back up your claim. Now ask yourself the question: how do your strengths relate to your course?
Sure, you have outstanding leadership skills, but how will you use that in the field of chemistry? Say you're an excellent debater; will that give you an edge when applying for engineering?
Make sure you tie your strengths back to the course you're applying for. If you don't, you might as well not put them in. You only have 4,000 characters to convince the panel that you are worth accepting.
Make each word count!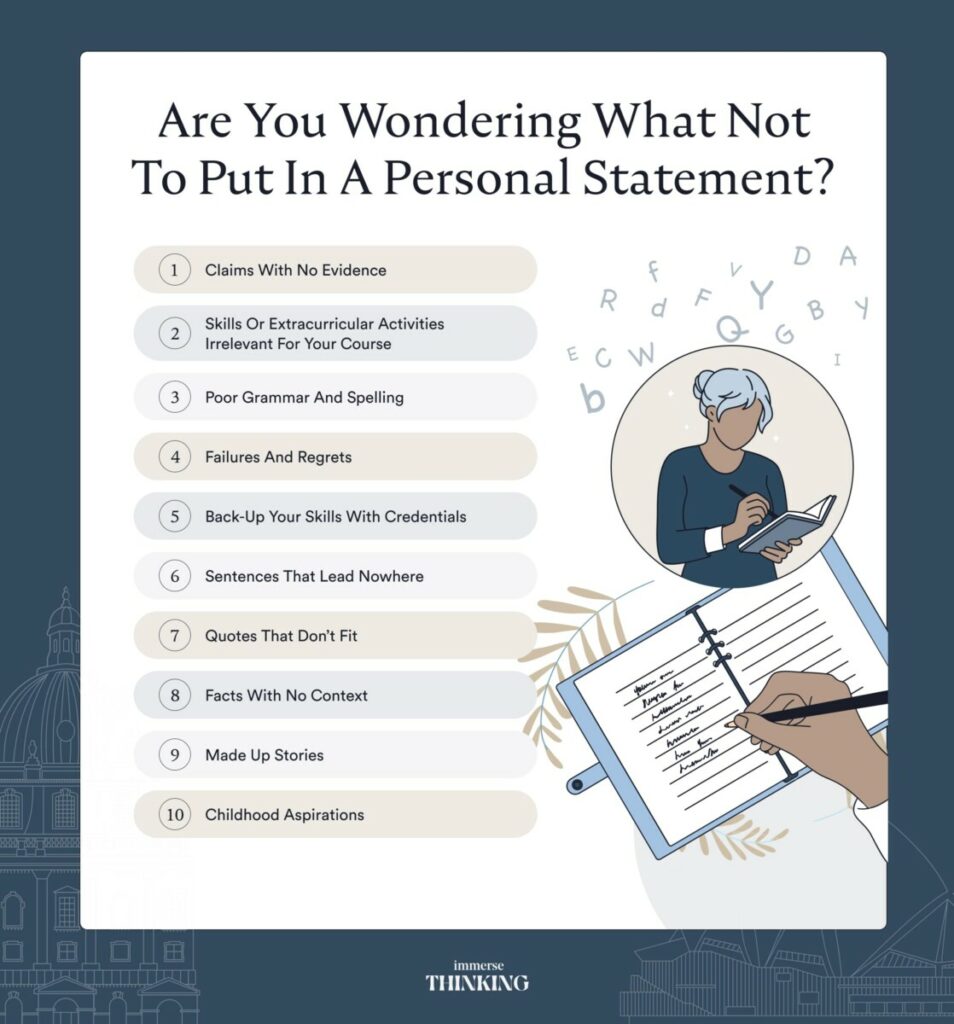 Poor Grammar And Spelling
Poor grammar and spelling are essential criteria when talking about what not to put in a personal statement. Spelling and grammatical errors can ruin decent content for a personal statement.
They show that you didn't care enough to go over your personal statement and improve the quality.
Are you a budding medic? Here's how to write a medical personal statement.
If you want to prove that you are a worthy applicant for your course, demonstrate your careful attention to detail by eliminating spelling and grammatical errors. Make it easy and pleasant for the admissions committee to read.
Doing so increases your chances of admittance by a hundredfold!
Failures And Regrets
Failures and regrets are some of the biggest things to remember on what not to put in a personal statement.
Why? Because your personal statement is a personal essay that sells you to universities for acceptance. Not an autobiography for you to inspire somebody like self-help books often do.
Mentioning how you failed Statistics or regret not trying out for the football team doesn't accomplish very much when convincing the admissions committee that you're potential student material.
But there is an exception to this rule. If your failure contributed significantly to developing your relevant skill, you may go ahead and write it down. As long as you make the connection explicit, you're good to go!
Keep this progression in your mind: failure, skill development, then tie it back to your course. This narration structure demonstrates your grit and determination to try harder.
Sentences That Lead Nowhere
Avoid one-liners or sentences that don't fit the context of your personal statement. If you're writing about what inspired you to study engineering, don't just mention inspirations and leave them hanging. Did a particular invention spark your interest?
Discuss why it sparked your interest. Could it be that the invention helped lift thousands of people from energy shortage? Perhaps it has helped alleviate global warming?
If so, how is that invention relevant in the 21st century? Then, if given the opportunity, what improvements would you make to enhance its usefulness in society? Perhaps this is the perfect opportunity for you to discuss technology ideas you have in mind. You may want to pursue it if the universities accept you.
From the universities' point of view, they'll be thrilled to accept a student who plans to invent a potentially groundbreaking tech. Do you see where this is going?
Each sentence in your personal statement has to build upon one another to come across as coherent. One sentence that leads nowhere will leave your reader hanging and perplexed. You can quickly lose the momentum you've worked so hard to gain.
So "sentences that lead nowhere" should be in your "what not to put in a personal statement" list!
Quotes That Don't Fit
Quotes are powerful, authoritative, and timeless. They can easily lift your personal statement to a higher level. But you need to know how to use them to their fullest potential. Or they may end up ruining your personal statement!
So if you want to use quotes, make sure they fit the context of your personal statement. You cannot drop in a random quote by Theodore Roosevelt with no connection to your story and how your experience relates to your determination to study the course.
One of the best ways to make quotes work is to interweave them throughout your personal statement. Explain how the quote inspired you to be a volunteer in the local kitchen soup. Then explain how your experience in the kitchen soup motivated you to apply for the course.
For a full-blast ending, mention your quote again in your conclusion.
Related Read: How To Conclude Your Personal Statement?
Facts With No Context
By now, you have substantial know-how on what not to put in a personal statement. But there's more – facts with no context.
You don't have to demonstrate your knowledge by discussing facts or histories. Chances are, the admissions already know what you're talking about. They probably know more than you do!
So steer clear of textbook-type explanations. Your personal statement is not a research paper! It's a personal essay aimed at showing the reader why you should be admitted as their student. That's why you need to nail your facts or histories in context by explaining how these helped you in your personal development. What realisations did you have that urged you to hone your skills?
Don't forget to tie your skills in with your course, writing why they're essential for you to succeed in the field.
Made Up Stories
Making up stories is an absolute red line you must never cross. But it's not easy to resist when you feel the pressure to impress and stand out. When you do feel the pressure, think of the effects down the road.
How would you prepare for a university interview if they were to ask you a question about the made-up story? Slight exaggerations, no matter how believable, can still knock you out cold when caught off-guard!
Say you mentioned that you read a particular journal article. Here comes an up-to-date professor who knows the latest research papers like the back of their hand. They ask you a question about it, but your poor answers reveal the truth that you made the story up.
Do you feel the chills crawling down your spine at the very thought? Good! Please don't do it! It's not worth it.
Not only can it ruin your chances of being admitted. But it can also potentially damage your career options years later!
Childhood Aspirations
Childhood aspirations carry little weight in personal statements. Why? Because you didn't have the knowledge, experience, or skills yet to make an informed choice of your course.
The admissions committee is not looking to know your whole life story. What they want to know is if you're a great fit as a student of your course.
Do you have the necessary experience and skills to succeed in your chosen field of study? What's your purpose? What are your long-term plans?
Mentioning your childhood aspirations will only waste much-needed space in your personal statement. Replace what's not needed with what's necessary. Choose only the best and most relevant of your experience and strengths and put them on your personal statement.
Conclusion
If you want to avoid writing what not to put in your personal statement, this list should be a great starting point.
The main idea is to nail down each sentence in context. Every line should support the whole point of your personal statement. That is, to convince the admissions committee that you are qualified to be their student.
So keep your personal statement clear of these common errors, and you'll have greater chances of succeeding!
Subscribe to the Immerse Education newsletter for £100 off your programme*
We'll send you our company updates and latest news. Subscribe for free by completing the form below.