Home » University » University Life
The Best Spots to Hang Out on Harvard's Campus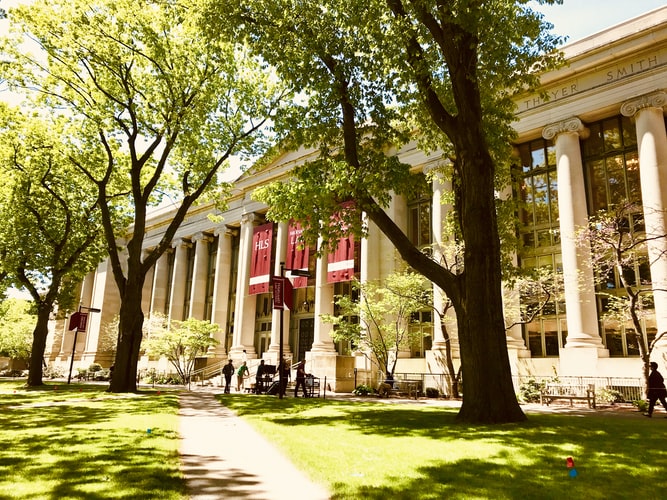 Back
Throughout high school, I spent many hours imagining what my college self would do and who he would be — emotionally, mentally, physically, and even spatially.
Having spent most of my life working out of my childhood bedroom, I was struck during my first week of college by the prospect of having an entire university campus as my oyster.
Admittedly, for the better part of my first month of college, I was lost in a sea of foreign abbreviations and Harvard-speak that signified various spots on campus ("Workout at MAC and breakfast at Berg tomorrow?").
However, as I began to develop a rhythm for my life at Harvard, I grew a deep affinity not only for my classes, friends, and clubs, but for the various physical spaces that housed them all too.
Here are just a few of my personal favourites on Harvard's campus, organized by category (note: every college campus will have its own version of these gems)!
TO STUDY
Lamont & Cabot Libraries: Situated on opposite ends of Harvard Yard, these two libraries are undergraduate favorites, as they are both open 24 hours.
Lamont Library boasts many stories, an after-hours cafe, and various reading rooms, while Cabot Library is newly renovated to include modern furniture and vending machines.
I've made so many incredible memories and friends during late-night work/hangout sessions.
Pro tip: find undergrad libraries on your campus!
Cafe Gato Rojo: This cute coffee shop lies hidden in a corner of Harvard Yard, right by Straus/Mathews Halls & the Harvard Graduate School of Arts & Sciences building.
I've spent many days here, studying with friends, munching on baked goods, and sipping on some coffee. With long hours that accommodate college student schedules, this spot is ideal for getting work done in a cafe atmosphere, without even having to leave the Yard.
Pro tip: find a coffee shop within your campus' bounds!
Smith Campus Center, 10th Floor: On the tenth floor of the Smith Campus Center (the biggest student complex on campus), you can find cozy sofas, lounges, and tables with a gorgeous birds-eye view of the Cambridge/Boston Skyline — perfect for getting work done while enjoying a classic East Coast sunset.
Pro tip: find a study spot on the top floor of any tall campus building!
TO SOCIALIZE
Grilles: Harvard's campus is home to several Grilles, or student-run, late-night snack spots located in certain upperclassmen houses.
The menu?
Comfort food, from mozzarella sticks to samosas. Personally, I've spent countless Friday/Saturday nights hanging out at different Grilles with friends till as late as 2am!
To top it all off, you can use BoardPlus at Grilles (BoardPlus is a $65/semester credit given to students which can be spent to buy food at select cafes/spots on campus).
Pro tip: look for internal cafes on your campus!
Common Rooms: As is the case on many college campuses, Harvard's dorms and upperclassmen houses each come with common rooms — social spaces for residents and non-residents alike to hang out.
These rooms can be reserved by student organizations for specific events or even by individuals looking to simply host a fun activity. Open 24/7, they are ideal places for gatherings, movie nights, parties, and more!
Pro tip: frequent the common rooms in your campus's dorms
TO RELAX
DPE Office: On the lower level of Grays Hall sits the Diversity and Peer Education Office / the BGLTQ+ Office ("Quoffice" for short).
This space is home to a number of enlightening community conversations on campus, but it also serves as a great rest spot during the middle of the day.
I've stopped here multiple times between classes to make a cup of coffee or simply lounge for a few minutes during a passing period!
Pro tip: find a basement lounge you can visit for mid-day refreshments!
Your Dorm: Honestly, I would say your own dorm room is a top spot for relaxation.
If decked out with the right furniture and decor (which can definitely be done on a budget!), going back to your Twin XL for a mid-day nap can be just perfect.
Subscribe to the Immerse Education newsletter
We'll send you our company updates and latest news. Subscribe for free by completing the form below.