Home » University » Learn About Oxford City & Oxford University
Libraries in Oxford – Best To Worst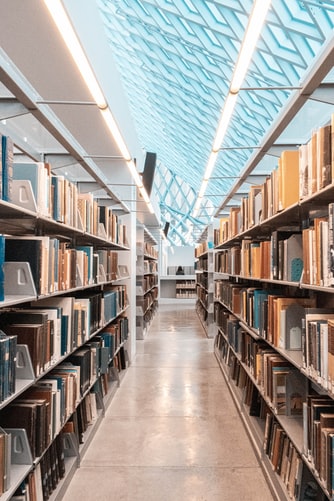 Back
One of the best things about studying at Oxford is the city itself – it's a perfect size, large enough never to feel (too) claustrophobic, and small enough that you can get almost anywhere you need to go in a maximum of about 20 minutes with a bike.
One of our trips as an Oxford summer course mentor was to take the students around to see the libraries – it's what spurred this article!
During the term, I rarely study in the same place two days a row; I love moving between libraries, coffee shops, and parks. The range of beautiful places available is one of the biggest things I've missed during the virtual term, which has doomed me to work in my room every day.
The libraries are a particular highlight: Oxford libraries are (mostly) beautiful, with fun details about their history that can be picked up from the plethora of tourist guides in the city centre or remembered from some of the leaflets that get handed out in freshers' week.
The sheer number of libraries, though, can be overwhelming, and it's quite difficult to figure out which ones we have access to, are allowed into, and will be helpful.
To my shame, I only discovered the social science library was a thing at the beginning of my second year (this probably would've saved me a lot of time in the first year desperately trying to reserve the one economics textbook possessed by my college library).
Even after 2 years here, I've not explored all the libraries I have access to, and it's a big goal in third year to try to get to them all.
The Radcliffe Camera
If you've looked at pictures of central Oxford, or visited, you've almost definitely seen the Radcliffe Camera – it's the neo-classical circular building with a vast dome.
It's featured on almost every student's Instagram, it's on pretty much all postcards of Oxford, and it's definitely in the five most impressive buildings in the city! It's also the location of the history faculty library, so I go at minimum once a week to get books out.
Working there is risky – since it's the history library, you're almost certain to bump into friends from your course, and since it's so central, most other disciplines study in the Rad Cam as well.
Also, the centrality and Instagram-worthy appearance mean it's always completely full. If you want a good chair, you have to arrive very early (not being an early bird, I've never actually verified HOW early you need to arrive for a window seat, but I've literally never seen them empty in the mornings).
The Bodleian
The Bodleian, to which the Rad Cam is connected, is significantly better for avoiding distractions: it's always entirely silent, and any move leads to being glared at by almost everyone else there.
If you're a fidgeter, it's probably not your best bet.
Duke Humfrey's library (within the Bod) is indisputably worth visiting and is the strictest of all, with no bags, food and drink – even a water bottle – and no photography.
That's a nice dovetail onto my next point which is that there are loads of notable alumni from Oxford university – be sure to check out our guide!
The Taylorian
The Taylorian is a similarly beautiful place to study and benefits from the fact undergraduates underrate it. The risk of a study session turning into an all-day coffee break, omnipresent in the Rad Cam, is significantly reduced.
It's the language faculty library, very close to the Ashmolean Museum.
Its neo-classical exterior rivals the Rad Cam for beauty, and its wood-panelled interior is full of busts, portraits, chandeliers, and spiral staircases.
The seats are significantly more comfortable than the Rad Cam, and slightly less competed over – that said, getting access to one of the six coveted window seats on the second floor is impossible, in my experience, and has been known to require queuing.
The Gladstone Link
If you're NOT looking for somewhere pretty to study – weird as it seems, sometimes in an essay crisis it's nice to study somewhere with absolutely no distractions – the Gladstone Link might serve your purposes well.
This is an underground lair under the Radcliffe Camera, and could not differ more in aesthetic terms: it's got harsh metal grids as floors, strip lighting, and rattling broken rolling shelves.
It's definitely got a more relaxed atmosphere than other Oxford libraries: if you're looking to take a verboten snack in, take your shoes off, or have a quick word with a friend, the Gladstone Link might be your place, despite its distinct ugliness.
The English Faculty Library
The English Faculty Library is another contender if you're looking for somewhere not quite as grim as the Gladstone Link but a bit less distracting than the Taylorian.
It's definitely more functional than beautiful, with a 1960s design heavy on the concrete and light on the wood panelling, but the large windows mean it's slightly better for non-vampires than the Gladstone Link.
Numerous Oxford colleges have amazing libraries and are probably the go-to for most students.
They're likely to either have or be able to buy the books on a typical undergraduate reading list, and they're good if you've not got the energy to venture far from home (not that any libraries really require much of a trek – even the furthest colleges from the centre are a 10-minute cycle).
They generally have the longest opening hours, too, so if an essay crisis hits you, or you're the kind of person who works best at nocturnal hours, you'll probably find yourself in your college library most frequently.
Subscribe to the Immerse Education newsletter for £100 off your programme*
We'll send you our company updates and latest news. Subscribe for free by completing the form below.