Cambridge
16-18
years old
Cambridge Philosophy, Politics & Economics Course (Ages 16-18)
symposia
2 weeks • July & August 2024
Gain advanced pre-university insights into Philosophy, Politics & Economics at Cambridge University colleges
Enrol now
Advanced pre-university course in Philosophy, Politics & Economics in Cambridge colleges
Philosophy, Politics & Economics, or PPE, is a programme founded on the belief that students will benefit greatly from studying the works of economic, social, political, and philosophical thought on a combined course. The aim of this course is to provide students with the skills they need to succeed in a variety of career paths and future academic pursuits. Students will establish a solid foundation of what studying PPE at university looks like, as well as a firm understanding of the subject itself. The PPE course will be taught by three specialist tutors throughout the programme for each of the three subjects.
Challenge yourself in one-to-one tutorials with expert academics.
In addition to small class sizes, you will benefit from one-to-one tutorials with your expert university tutor every week.
The tutorial system is a highly regarged method of university teaching used at universities such as Cambridge University and Oxford University. This teaching technique is supportive, academically challenging, and rigorous. During a tutorial, you will learn to communicate, defend, analyze, and critique ideas in conversations with the tutor.
Example tutor:
Su Min L
Su Min is a Teaching Fellow at the University of Cambridge, having been awarded a MPhil and BA from Cambridge in Economics. Su Min teaches microeconomics and primarily its applications in the real world, as well as political economics (how politics and economics interact). His research focuses on political economics and seeks to ask the general question about how political manoeuvres, particularly winning elections, influences economic policy, for better and for worse.
Special Speakers from previous summers
Each week participants will hear from an inspirational speaker. Meet some of our previous guests:
Neuroscientist & entrepreneur
Dr Lynda Shaw
A journey in personal development - how to create your own set of tools to fast track success
Former Olympian
Abi Oyepitan
A two-time Olympian and Commonwealth Gold and Silver winning track and field athlete.
International training consultant and motivational speaker
Kate Atkin
Success: What lies behind the mask? An informative and inspiring talk exploring courage, confidence and the imposter syndrome
Reviews
Our Alumni says
The Immerse programme has been one of the best experiences I've ever had in my whole life, to be honest! In psychology I've studied behavioural psychology, cognitive psychology, and we had a whole day to study gender and sexuality because it's my tutor's specialty.
For my personal project, I decided to do research about the correlation between the time adolescents spend on their phone and their levels of concentration. We learned about the aspects of the experiment that we could improve upon, such as the diversity of people asked, and the variation of demographics.
I really enjoyed the London and Oxford excursions, but I'd say the Oxford one was my favourite, because it looked like home for me – it reminds me of Brazil for some reason! I loved it, and London was also amazing.
Residential Psychology (16 - 18)
Work hard, play hard.
Action-packed social programme
Outside of lessons, we are proud to offer a busy and diverse social programme to help you get the most out of your time in Cambridge. This includes activities such as punting on the River Cam, zorb football and a murder mystery night in the college.
There are also two excursions during the programme, one day trip to visit Oxford and its constituent colleges, as well as an optional day out in London, seeing the city's most famous landmarks as well as some free time for shopping. Those who choose not to travel to London are invited to afternoon tea in Cambridge.
Activities and excursions are run by our team of friendly mentors – whose main job is to maximise your enjoyment.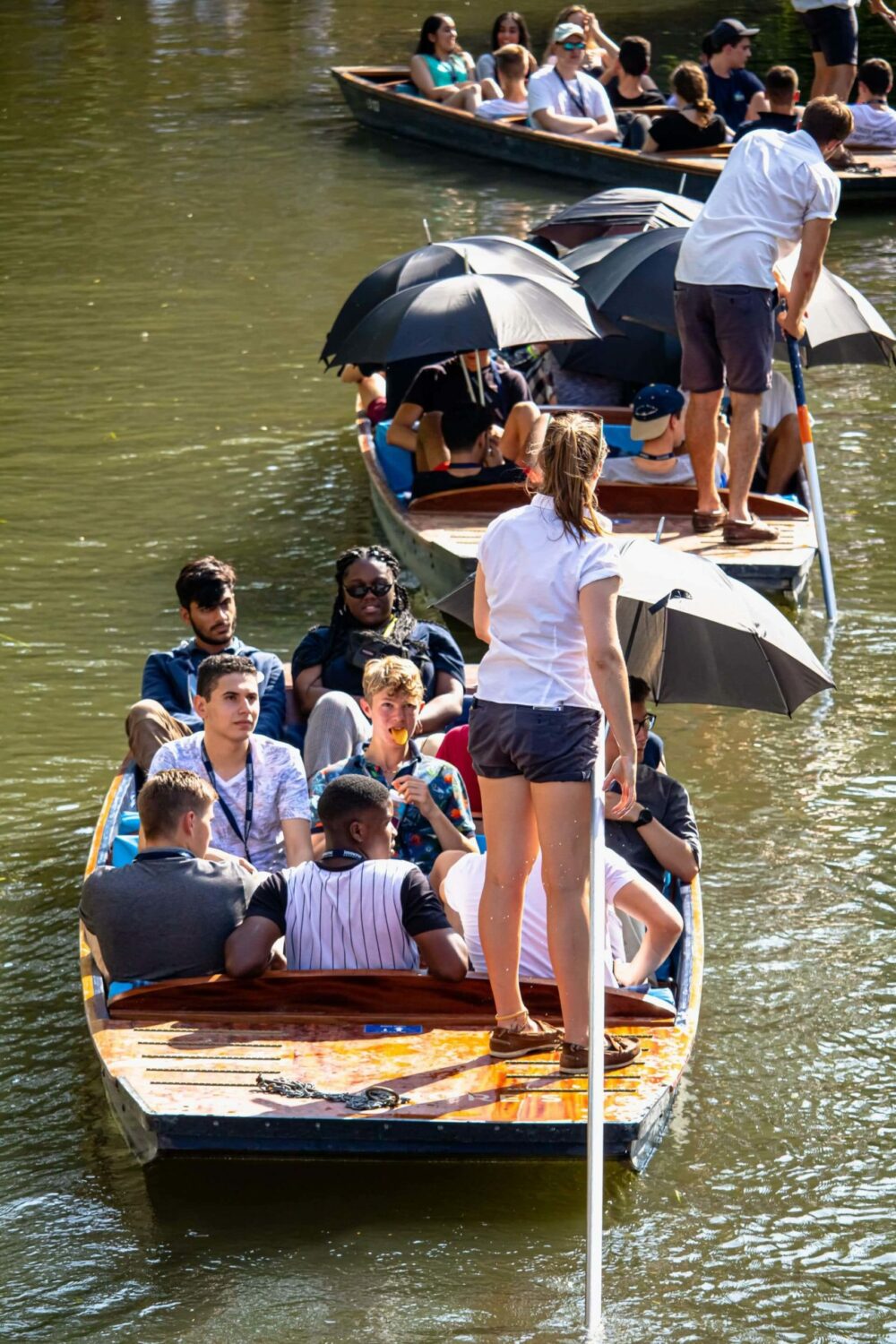 Work hard, play hard.
A unique social programme.
Experience traditional 'Formal Hall'
Formal Hall is a traditional weekly meal that takes place in every college. This is an opportunity for students to dress up, dine by candlelight in the magical surroundings of a Cambridge college's dining hall.
As an Immerse student, you will experience formal dinner three times during your stay – once per week in Cambridge, as well as in an Oxford University college on the excursion day.
Formal hall is truly a memorable occasion, so remember to bring some smart clothes!
A unique social programme.
Live and study in a
Cambridge University College
Experience life as a Cambridge University undergraduate
All participants will be allocated to a college a few weeks before arriving, based on their dates and subject choice.
If you would like to stay in the same location as a friend/sibling – please let us know and we will do our best to arrange this, where possible.
Males and females have separate accommodation in every college, and there is wi-fi available throughout.
For more information, please visit this page.
Pastoral care and safety
An accredited provider of academic short courses
Immerse Education is accredited by the British Accreditation Council (BAC), the leading mark of educational quality for the academic sector. Our accreditation with the BAC sends a positive and clear message to students and partners that they are studying with a trusted and reliable provider who has met a series of globally recognised quality assurance standards, both in terms of academic provision and student welfare.
The safety and well-being of our participants is our number one priority, and all staff undergo enhanced background checks and receive thorough safeguarding training before interacting with any students.
For more information, please visit our Pastoral Information page.
Meet Immerse's mentors and
college managers
All of our team members are approachable and supportive. Check out some of our previous team:
Eliza's infectious enthusiasm - from the academic sessions to the talent show -means that she's a firm favourite amongst Immerse students.

Ore participated in Immerse as a student before joining the team whilst studying at Cambridge, relating her Immerse experience to new students.

Dylan has been both an Immerse Mentor and a College Manager twice! He's known for going the extra mile to make the Immerse experience exceptional.

Maia is a Cambridge University Theology student who participated in the Immerse Philosophy programme.

Murray is an enthusiastic Medicine student at Cambridge University, who is always eager to help Immerse students make the best of their experience.

Olivia studies Medicine at Cambridge and has a knack for making friends with each of her mentor 'family' - creating a home away from home.
Immerse™ Philosophy, Politics & Economics Sample Modules
Module 1 -

Introduction To Philosophy

Introduction to Philosophy In this module, you will explore the history of philosophy, from the great teachings of Socrates to modern-day philosophers like Rene Descartes. We will explore general, moral and elementary philosophy in order to establish a broad understanding of the study of philosophy and how it has informed the way great thinkers have and continue to perceive the world we live in. This introductory module will form the basis of further knowledge building on the topic throughout the programme.

Module 2 -

Introduction to Politics

During the politics module, you will explore the theory of politics as an introduction to political theory, as well as the practice of politics as an introduction to comparative government and politics overall. You will also have the opportunity to explore political analysis as an introduction to empirical and quantitative methods in politics. You will further extend this foundational knowledge of politics throughout the programme in later modules.

Module 3 -

Introduction to Economics

The economics component of this programme allows students to explore microeconomics (the functioning of the market economy), versus macroeconomics (dealing with national output and employment, exchange rates and policy issues). In this part of the course, you will also have the chance to explore mathematical and statistical techniques used in economics and will be expected to apply mathematical thinking and problem-solving to practical problems.

Module 4 -

British Politics and Government

In this module, we'll take a deeper look at British politics from the 1900s to the modern day, asking essential questions about the changes in politics and the role of the government in Britain. This delve into UK political history will explore some of the UK's most controversial leaders such as Thatcher, Churchill and Blair, while also gaining insight into how the UK's political history may have influenced global political and social norms.

Module 5 -

Ethics of Philosophy

We all have beliefs about what is right and what is wrong, but where do we get those beliefs from and how are they justified? In this part of the course, you will explore the philosophy of 'ethics' and the theories that have been developed in philosophy to explain or interpret ethical thinking. Some of the topics you will explore include consequentialism, liberalism, virtue ethics, moral absolutism and moral nihilism.

Module 6 -

Development of the World Economy

The Development of the World Economy module gives an overview as well as a more detailed analysis of the world economy as a whole, giving students the opportunities to consider issues affecting industrial countries, developing countries, and economies in transition to the market, meanwhile addressing topics of pressing current interest.

Module 7 -

Comparative Government

Comparative politics is one of the subfields of political science. In this unit, students will compare and contrast power and decision-making within and across national boundaries. Students will analyze the similarities and differences between politics globally, engaging the study of political thought outside of UK and US politics. The study of comparative politics helps us to understand political events and developments in different countries, generate lessons from one place to apply in another, and develop broad political theories.

Module 8 -

Plato's Republic

In this module we will take a look at The Republic, a Socratic dialogue authored by Plato around 375 BC. It concerns justice, the order and character of the "just city-state", as well as "the just man". The Republic is Plato's best-known work and has proven to be one of the world's most influential works of philosophy and political theory, which is why it remains an important piece of literature to explore in relation to both politics and philosophy. By the end of this unit, you will have a understanding of this influential piece of literature, as well as its influences on past and current politics and philosophy.
Want to learn more?
Request syllabus overview
Want to learn more?
Request syllabus overview
//= $text; ?>
13 nights accommodation in a central college of the University of Cambridge
Breakfast and dinner in College Hall
Accommodation in an individual bedroom
40 hours of academic sessions from Oxford University and Cambridge University tutors
Mentor programme and access to support material
Carefully designed study and lecture materials
All excursions- including formal dinner at Cambridge/Oxford colleges, punting, croquet
Comprehensive summer school insurance
2 coach excursions including a trip to London
Graduation ceremony and certificate
Detailed evaluation written by tutor
Philosophy, Politics & Economics
Secure your place for Summer 2023
Enrol now
accreditation
Have a question?
Our expert team are ready to help.
Contact us