Home » University » Best UK Universities For Every Degree
Best UK Universities For English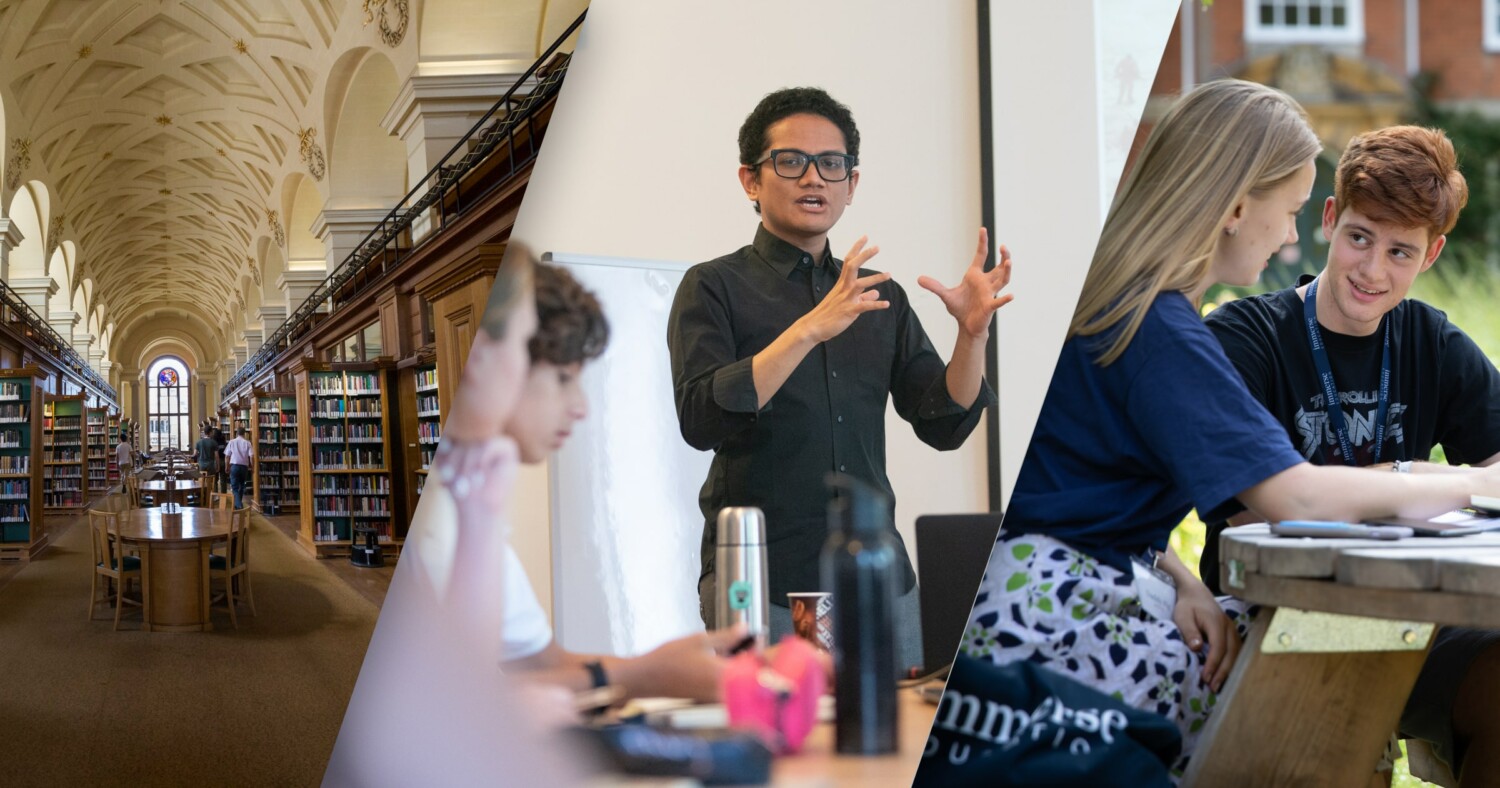 Back
Studying in one of the best universities for English in the UK is an excellent opportunity to achieve your career goals.
English graduates have many job and business opportunities to explore, from writing and journalism to teaching and marketing. The key is to identify your long-term goal and determine which university can help you move closer to your target.
It's a topic our team commonly explore with our english literature summer school students in their career insights session, so we decided to bring our knowledge to the masses.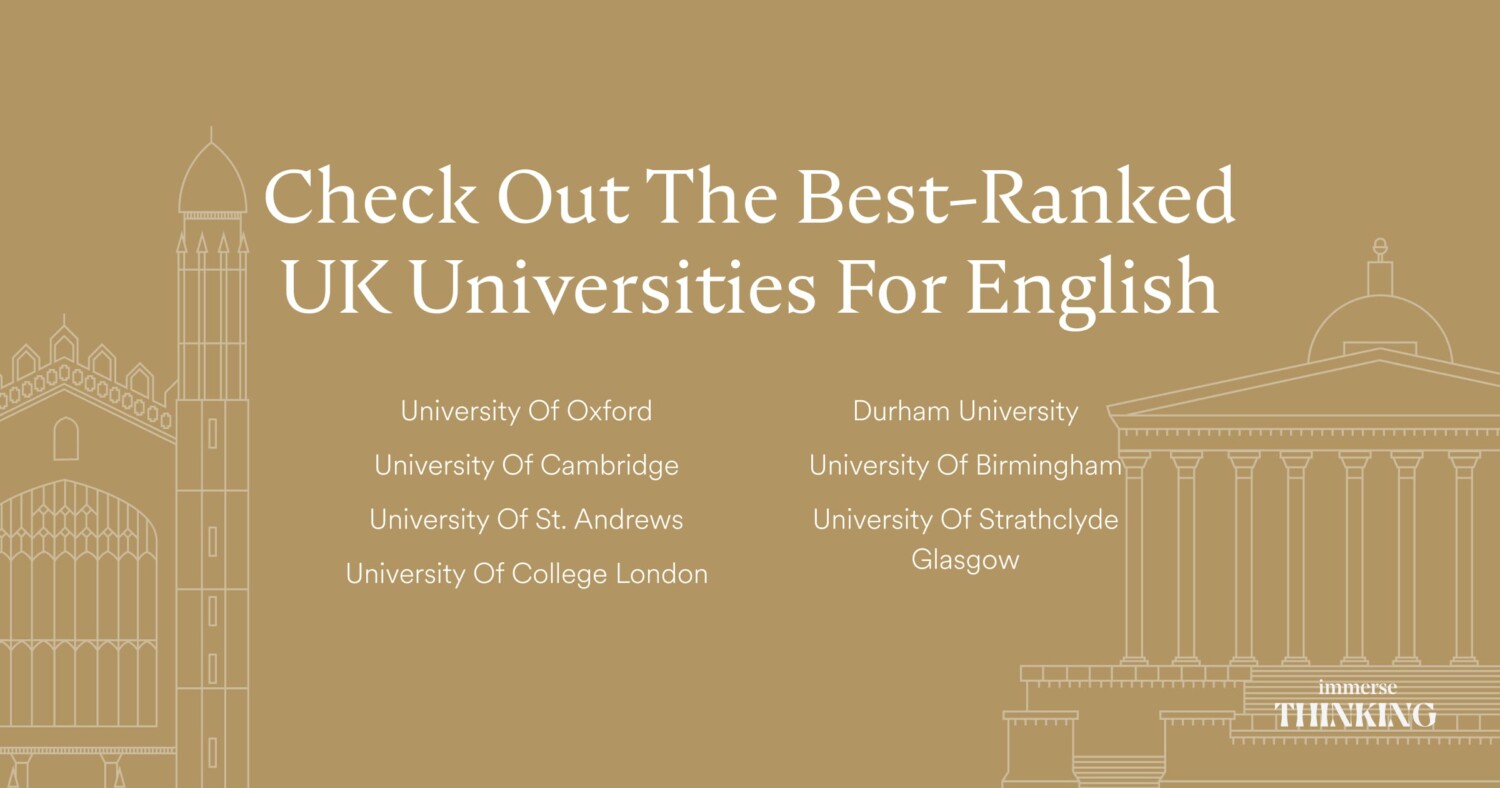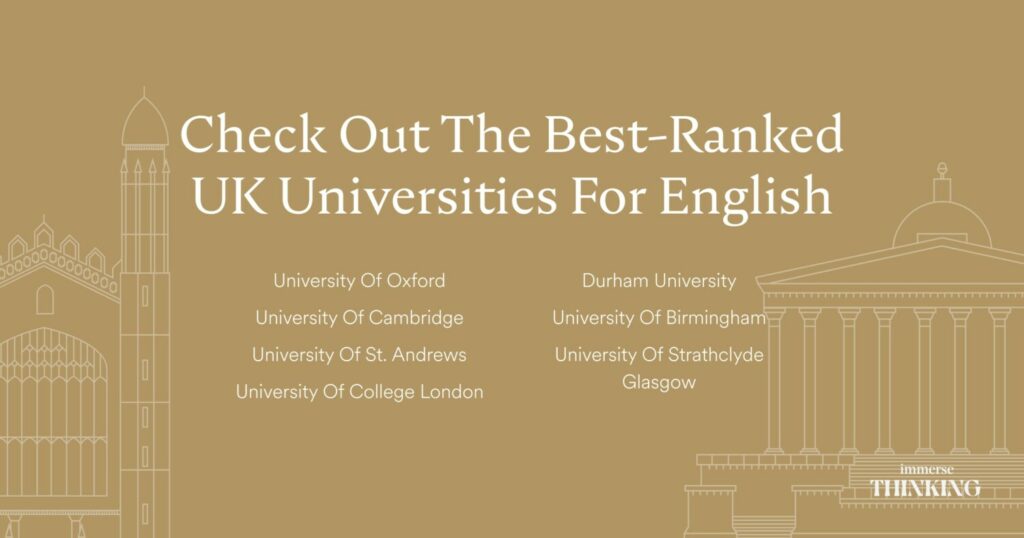 In this article, you'll discover some of the best universities for English. And why they're considered the cream of the crop.
Are you looking just to study English Literature at university? Head to our best universities for English Literature if so.
What do J.R.R. Tolkien, C.S. Lewis, and Oscar Wilde have in common? They are famous, successful authors, and they studied at the University of Oxford.
Is it any surprise then that the Timers Higher Education World University Rankings 2022 ranks this prestigious university best in the world for the 6th consecutive year? Another league table, the QS World University Rankings 2022, names it 2nd in the world and 1st in Europe.
Oxford is one of the best universities for English because it allows you to study writing from its origins to the present – that is, from Anglo-Saxon England. You can also study literature originally written in another language to make it more awesome!
So when you see how they translate to English, you'll understand their context throughout the ages in different parts of the world. In your final year, you can choose which to focus on for your research paper, including film criticism, literature and revolution, and Old Norse.
Oh, do you know that the most extensive English department in Britain is Oxford? Each professor who teaches a particular aspect of the course is an active scholar in that field. So students learn from the very best.
The University of Cambridge also formed many prominent writers who helped shape modern minds, including Edmund Spenser, Helen Oyeyemi, William Wordsworth, and Ted Hughes.
It's one of the best universities globally, raising over 23,000 students from more than a hundred countries. The Complete University Guide 2022 and The Guardian University Guide 2022 ranked Cambridge Top 3 for their excellent teaching.
Cambridge University is one of the best universities for English because it instils three fundamental skills: critical thinking, clear communication, and close reading. Many of its English graduates pursue careers in teaching, journalism, writing, and film.
Even employers from other fields, including Law, Social Work, and Civil Service, look for English graduates from Cambridge.
When you enrol as an English student in Cambridge, you'll have access to various sources to solidify your literature foundation. Both the University and Faculty Libraries will be available to you. Over 80,000 books you can explore, plus the latest computer facilities to enhance your learning.
The University College London (UCL) is dedicated to giving its students a global perspective to make the world a better place to live. As such, it selects students according to their talent. It doesn't matter your religion, national, or social background. What matters most is how dedicated you are to honing your potential.
Studying at UCL gives you an advantage because the world recognises its place as one of the top schools in the world. The QS World University Rankings 2022 named it Top 8. Plus, its location in the very heart of London adds value to your résumé.
UCL is one of the best universities for English because it's the only English department in the UK that offers a one-to-one tutorial for three years of the course. That means students can receive personal tutorials for their individual writings from their tutor.
They can also ask questions, raise concerns, or engage in deeper discussions that a class setting may not provide.
The University of St. Andrews is located on East Coast Scotland. Situated in a breathtaking place, the National Student Survey 2021 names it Top 1 in the UK for student experience. At least 93% of its graduating students highly regarded its excellent teaching, values, and culture.
Cultivating a sense of community and belonging is the core that makes studying at the University of St. Andrews unforgettable.
If you're wondering why St. Andrews is one of the best universities for English, it's because The Guardian University Guide 2022 names it Top 3 in the UK according to the said subject. When you enrol in the program, you'll study the evolution of genres through the centuries – from the middle ages to the present age.
But that's not all; you'll also explore Scottish, American, and Irish literature. Even verse, prose, and drama!
Students have a constant source of support to assist them when they encounter issues with their academic and personal life. St. Andrews has a dedicated "Advice and Support Centre" team to help its students solve financial and well-being problems.
If you apply early, you can get accommodations in the university's residence halls.
Durham University is a world Top 100 University that received the Athena Swan Bronze Award for advocacy for gender equality. It has the highest graduate employment rate in the UK, boasting 97.9% of its graduates employed or enrolled in further study within three and a half years after graduation. An excellent factor for this is its exceptional CareerAhead support. It's accessible to all its students throughout their stay at the university.
Durham University is one of the best universities for English because The Guardian University Guide 2022 ranked it 4th for English in the UK. If you enrol in their program, you'll learn British literature from the medieval period until today. You'll also dive into anglophone literature from all over the world.
One of Durham's core strengths is its research, 90% of which the Research Excellence Framework judged to be "world-leading." In its English department, research spearheads development. There is a continuous publication of academic books, essays, and creative work you can participate in to help create global impact.
Birmingham is at the centre of England, where you'll be surrounded by a long and rich history of cultural heritage. Exposure to such an intellectual place is necessary for a deeper understanding of literature as an aspiring English student. So let's take a look at one of the city's biggest and most beloved schools, the University of Birmingham.
It's included in the world's Top 100 and is a member of the prestigious Russell Group. It has one of the UK's largest and most diverse student communities – 10,000 international students from over 150 countries!
The University of Birmingham is one of the best universities for English because The Guardian University Guide 2022 ranks it Top 10 for English. The QS World Subject Rankings 2021 names it Top 35 for English Language and Literature. Its programme offers you foundational knowledge by investigating past and present cultures through the lens of various literary genres. That's not all. You'll also have explorations in closely related fields, including Film Studies, Creative Writing, and Drama.
One of the unique assets of the University of Strathclyde Glasgow is its award-winning Careers Service – which the students voted Top 4 in the UK. It's available during the entire duration of your stay at the university. Here's the unique part: the service extends up to 10 years after graduation!
The University of Strathclyde is one of the best universities for English because The Guardian University Guide 2022 ranked it Top 4 in the UK for the subject. There are two general degrees you can choose from English and English & Creative Writing. The approach is twofold: you'll have a lot of fun diving into history and past genres while getting a blast of the new and emerging types of literature.
It may inspire you to know that many Strathclyde English graduates went on to have successful careers when it comes to career options. There's:
James Boyle, the Scottish Cultural Commissioner and former BBC director.
You may also recognise Stephen Greenhorn, the creator and screenwriter of River City.
And let's not forget James Kelman, a novelist who won the Booker Prize Award.
These prominent figures result from Strathclyde's fantastic dedication to supporting their students' success.
Wrapping Up
There you have it – the best universities for English in the UK. Which universities do you think will help you achieve your long-term goals? The University of Strathclyde and Durham University are great options if you're searching for career support. The University of St. Andrews is fantastic for the student experience!
No matter which university you think works best for you, we at Immerse Education wish you the best of luck!
Best University for History (UK)
Top University for Engineering (UK)
Top Ranked Universities for Law (UK)
Best Medical Schools (UK)
Top Universities for Psychology (UK)
Best University for Computer Science (UK)
Best University for Maths (UK)
Best University For Economics In The UK
Best Universities For Physics In The UK
Subscribe to the Immerse Education newsletter for £100 off your programme*
We'll send you our company updates and latest news. Subscribe for free by completing the form below.