Home » University » Best UK Universities For Every Degree
Best Universities For Architecture UK Edition: 8 Great Choices
Back
Are you looking for the best UK universities for Architecture? Choosing a university is one of the most important decisions you'll ever make.
If you're planning to study architecture at university, then it'll help jumpstart your architecture career and help you achieve your career goals.
In this list, you'll find the Top 8 Best Universities For Architecture in the UK. Each university has its respective attractive quality to draw you in. Which one will you choose? Read on!
Not sure about Architecture? Check out the best UK universities for loads of different degrees!
University Of Cambridge
Related Architecture Course Page: https://www.undergraduate.study.cam.ac.uk/courses/architecture
The University of Cambridge is an international organisation spearheading research and education for over 800 years. Its mission is to contribute to society by providing the highest global excellence for research and learning.
As a testament to its excellence over the centuries, it raised 110 Nobel Prize Winners and 47 Heads of State. What's more, over 90% of former students find employment or undertake further studies just within six months after graduation.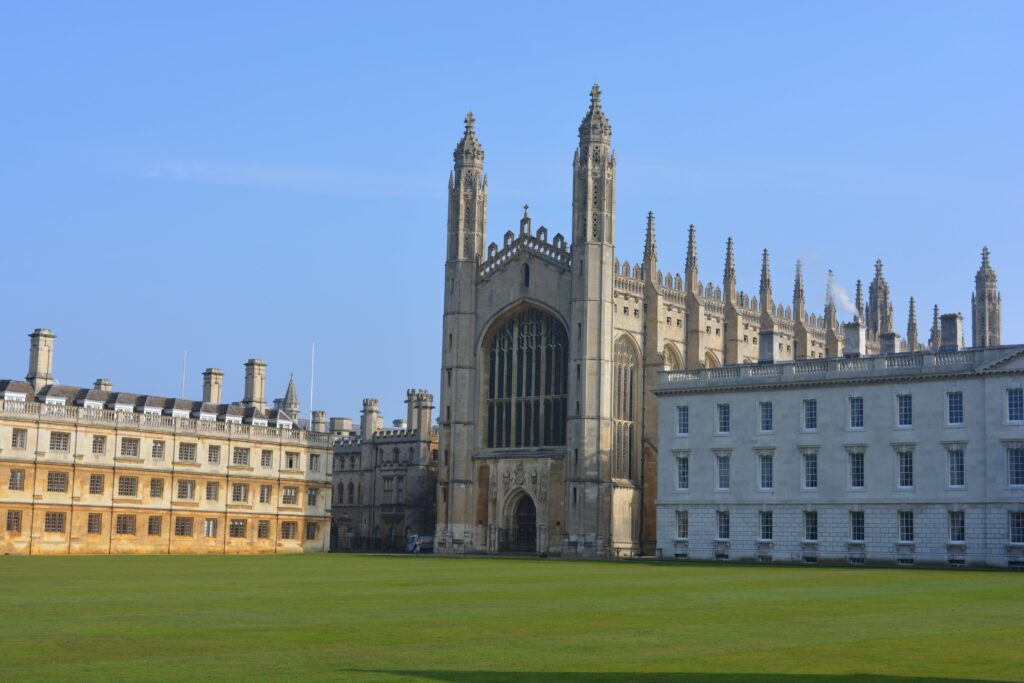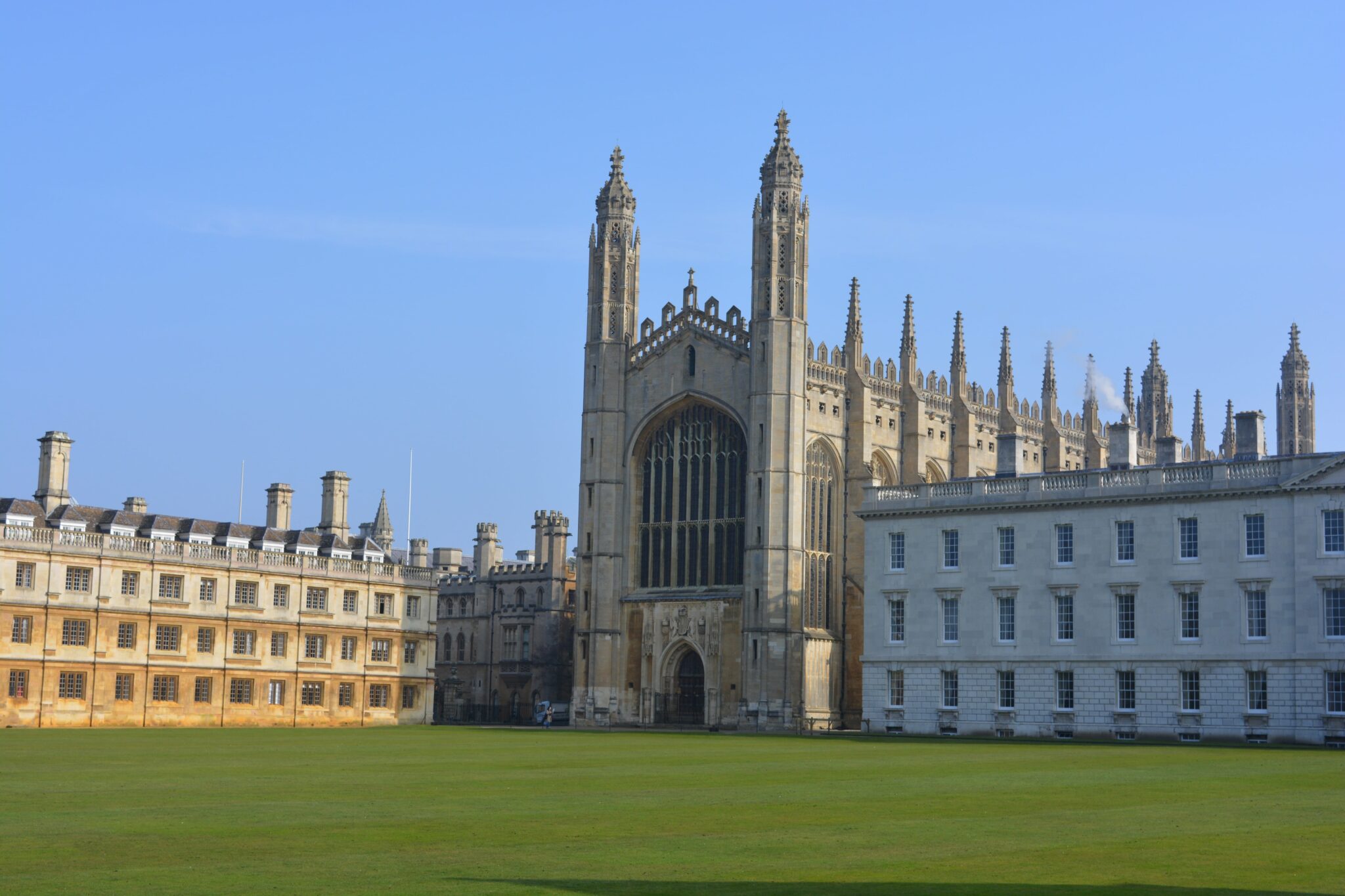 The University of Cambridge is based in (you guessed it…) Cambridge, England! Cambridge is known for its architectural wonders including the Mathematical Bridge, King's College (pictured above) and more.
Of course, it has one of the top spots in the university rankings, because 95% of the graduates were employed where their course is relevant. And these graduates have a high-annual salary of £22,000.
Most of the graduates went on to become architects, town planners, and surveyors.
So if you want to increase your prospects of having a bright, high-paying career, apply to the University of Cambridge!
University College London
Related University Course Page: https://www.ucl.ac.uk/prospective-students/undergraduate/degrees/architecture-bsc
The University College London made history when it was the first university in England, United Kingdom, to accept women and students from any religion. To this day, it stays true to its progressive approach to breaking boundaries and creating an impact to solve world problems.
Check our guide on university life in London. Careful! You may find the best study spots, too!
Located in England's capital, London, it houses more than 42,000 students from 150 different countries globally. You'd be interested to know that the University College of London produced 30 Nobel Prize Winners, changing the course of history for the better.
Considering that the latest Research Excellence Framework rated the University College London as the Top University in the UK, it's no surprise that it's one of the best architecture universities in the UK. It aims to guide its students toward discovering their architectural vision.
As an architecture student, you'll spend most of your time in the workshop and studio. 70% of the course involves teaching and assessing your design portfolio. The University College of London provides leading practitioners and academics to guide your hand in design teaching.
The University of Edinburgh is a global university registered in Scotland, United Kingdom, aiming to contribute through global partnership, community, and exchange. Since it first operated in 1583, it has influenced history with its Nobel Prize Winners, Prime Ministers, and Olympic Champions.
Two of the most notable historical figures are Joseph Black, who discovered Carbon Dioxide, and James Hutton, the "Father of Modern Geology." These remarkable figures could only have come from one of the world's best universities.
True enough, the 2022 QS World University ranked the University of Edinburgh Top 16th worldwide. It also claims that employers rank graduates from this prestigious university as the world's Top 25th.
Aside from its academic prowess, the University of Edinburgh is among the best universities for architecture because Edinburgh is a UNESCO World Heritage Site. It's a beautiful place of architectural design, and you'll never run out of real-world inspiration for your portfolio!
Students across the UK love Loughborough University. So much that the Whatuni? Student Choice Awards 2020 named Loughborough University the University of the Year. Guess who had the authority to make this decision? The students themselves who are currently enrolled. They submitted reviews and ratings expressing their extreme satisfaction with Loughborough University's services.
If you're looking for the best universities for architecture, look no further because Loughborough University offers a "renowned student experience." Wherein they provide every student with the opportunity and resources they need to reach their true potential.
What are these resources? Diverse connections with the industry to make sure you'll have a remarkable career ahead of you. Excellent, modern facilities within their 440-acre single-site campus that are conducive for learning. And, of course, positive teaching methods put you, their beloved student, at the heart of everything they do.
Loughborough University's positive, student-centred approach to learning is so efficient that the National Student Survey 2019 ranked Loughborough University as England's Top Educational Institution for overall satisfaction.
The Manchester School of Architecture is one of the largest and best universities for architecture in the UK. The QS World rankings ranked it Top 11 in the world.
The University of Manchester and the Manchester Metropolitan University united their two architecture schools to form the Manchester School of Architecture. For over 100 years, it has produced qualified architects in the UK who are among the most sought after by employers.
As a Manchester School of Architecture student, you have the unique advantage of accessing two of Manchester's universities' resources – libraries, media workshops, studios, computer suites, and more!
Manchester is known as the "City of Architects" because of its cultural, architectural, and sporting legacy. Thus, making it an excellent place for architecture students. The Neo-Classical Manchester Central Library and Imperial War Museum are some of the breathtaking beauties that will excite and inspire your designs.
So if you need access to wide-range resources and inspiration, joint universities located in a striking city is sure to satisfy you.
The University of Sheffield is a member of the Russell Group of 24 elite UK research universities. No wonder the QS World University Rankings rated it as Top 17th in the UK. And the Whatuni Student Choice Awards named it the No. 1 Students' Union in the UK for three consecutive years – 2017, 2018, 2019.
If you're searching for the best universities for architecture, don't miss out on the University of Sheffield. It's recognized by the Royal Institute of British Architects and prescribed by the Architects Registration Board. And the Complete University Guide Subject Tables 2021 ranked it as 4th in the UK for architecture.
You May Be Interested In: Architecture University Interview Questions: How To Ace Them!
As a Bachelor of Arts in Architecture student at the University of Sheffield, you'll undergo a three-year program focusing on the balance of theory, design work, and professional experience. Your teachers are experts in their respective fields. Thus, giving you the guarantee of excellent training and education.
The University of Sheffield believes in architecture that makes a difference. They are passionate about improving the lives of those who live in it and use it. If you believe the same, then the University of Sheffield may just be the right school for you!
Lancaster University is "more than learning; it's belonging." If feeling a sense of belonging in a community is a characteristic you highly prize, check out Lancaster University. The Times and Sunday Times Good University Guide 2022, The Complete University Guide 2022, and The Guardian University Guide 2022 include Lancaster University among UK's Top Universities.
Lancaster University recently opened its new Architecture programme for aspiring architects. Given its outstanding reputation, Lancaster University will surely grow to be among the best universities for architecture.
As an architecture student, your three-year architecture degree consists of modules that will cover advanced digital design skills, building design, building materials, and professional practice. Lancaster University pushes you to new horizons. But they make sure to do it with constant guidance in your research and studies. Even beyond, all the way to your career.
Plus, Lancaster University gives particular emphasis on sustainability. So if that's something you're passionate about, you'd love to join the community!
Curiosity and creativity drive research and teaching at Cardiff University. Resulting in graduates who have the talent, motivation, and enthusiasm that employers are seeking.
That's why 97% of Cardiff University graduates are employed or are enrolled in further study. Leading the Time Higher Education 2017 to name Cardiff University as Top 7 UK universities for its career university.
Cardiff University is one of the Top 5 schools of the best universities for architecture in the UK. As an architecture student at Cardiff University, you'll be rooted in creativity, having the ability to solve real-world problems using your design practice.
So it's no wonder that the Graduate Outcomes Survey 2017/18 states that a staggering 98% of architect graduates are employed or enrolled for further study.
You'll be happy to know that Cardiff University offers a rich, well-rounded student life. Whatuni Student Choice Awards 2020 ranks Cardiff University 3rd as the UK's Best Student' Union. With over 200 societies to support all forms of interests, you're sure to feel a sense of community.
Which Uni Courses Are You Considering?
There you have it! You've gone over 8 of the Best Universities For Architecture in the UK. We at Immerse Education are dedicated to giving you the resources you need in choosing the University that suits your future career goals. Our architecture summer schools are taught by expert tutors from the world's best universities.
So, which university caught your eye? Aside from the location, which factor weighs most to you when making the life-changing decision of choosing schools?
Are You Still Deciding On Your University Degree? Check These Out
Subscribe to the Immerse Education newsletter
We'll send you our company updates and latest news. Subscribe for free by completing the form below.