Home » University » Cambridge City: University, Attractions & More
Things To Do In Cambridge: 6 Fascinating Picks From A Cambridge Insider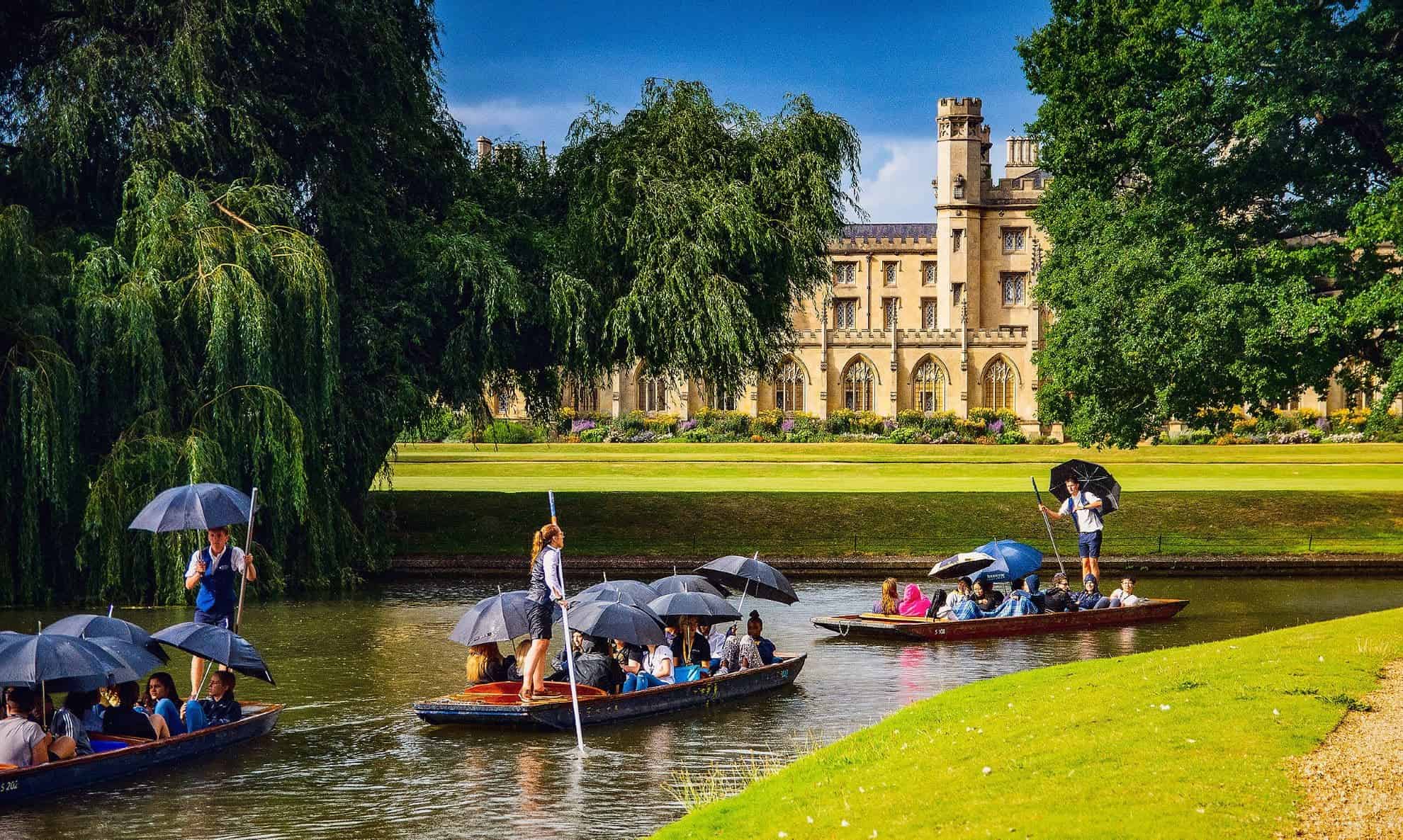 Back
Doubtless, you've already done your research. You've got a list of things to do and see during your trip to Cambridge.
But what of the lesser-known gems in Cambridge? Not quite the diamonds, but the cubic zirconia of Cantabrigia?
Over my four years at Cambridge University, I have amassed an encyclopaedic knowledge of the town. If the encyclopaedia were missing a few pages. And whilst being a mentor on Immerse's summer camps in Cambridge for high school students I decided to pour it all out here.
Onward, to Cambridge attractions of middling import!
An Alternative Skyline View: Møller Centre, Churchill College
Perhaps a little out of the way, on the northeast edge of Cambridge proper, you can climb the tower at the Møller Centre at the best college in Cambridge. Because it's not a real tourist attraction and the Centre isn't strictly speaking part of the College, you can just waltz in and climb up for free!
On a clear day, you can see the spires of King's Chapel; the tip of Great St Mary's Church; and the great reaching finger of the University Library. On a colder day, there are blankets in wicker baskets for you to cover up with as you sit on a bench. No, I'm not kidding – this is real hospitality!
Related Read: Top Ten Sites To See Whilst Punting on The River Cam
A Reasonably Priced Fancy Lunch: Browns Brasserie, Trumpington Street
With a 3-course meal for about £16, we're looking at the same kind of value at your average Cambridge formal hall. And this little restaurant is in the converted remains of the Outpatient department of the Old Addenbrooke's Hospital. The old stone sign is still visible above the restaurant entrance, as a quaint curiosity.
Weirdly Cheap University Merchandise: Cambridge University Students' Union, Mill Lane
For a couple of quid, you can get stationery branded with the University coat of arms. Selection is limited, but the prices are a fraction of what you'll pay in one of the King's Parade gift shops, which is great for a small souvenir on a budget.
And there's a little lounge with a coffee machine if you want to put your feet up for whatever reason.
Where Tourists Fear to Tread: The University Centre, Granta Place
Looking for somewhere quiet to relax and finish that project you've been putting off? The University Centre, while technically a members-only building, is effectively open for public use.
But the public doesn't know that you see?
You can waltz in, enjoy the view of the river and grab a bite to eat. You may need to bring a mate who either studies or works at the University to access the wifi for free, but the air conditioning and comfy chairs make up for it.
There's also a cafe, dining room and restaurant that you're perfectly free to use. Except you still have to pay for stuff. So you are free to buy things, but those things are not free.
Glad we cleared that up.
Secret Student Cinema: St John's Picturehouse, St John's College
Fancy sneaking off to see one of the Oscar contenders in action? How about a superhero movie, fresh off that endless conveyor belt that's churning them out right now?
Well, if you happen to be in Cambridge while it's running, the St John's Picturehouse is a student-run cinema based in St John's College. They've got professional-grade sound equipment; a pretty impressive screen; and a purple bank of comfy, foldaway seats.
The good news: it's open to the public and tickets only cost £4 per head!
The bad news: their open season depends on when the student committee is in town. Check out their Facebook page for more details – you may be in luck!
Related Read: Top Hidden Gems In Cambridge From A Resident Student
Fancy Formal Dinners at any College: The Cambridge Formals Marketplace, Facebook
One of the reasons we Cambridge students are reviled by our peers across the nation, is the sickeningly luxurious lifestyle that the media is convinced we enjoy daily.
Trust me, for the average Cantab, it's not every day. Maybe like three nights a week?
I'm talking about the age-old tradition of the formal hall. Or formal dinner, for those of you who are normal.
Each college in Cambridge University serves up a series of silver-service, skillfully composed meals for its students and fellows.
The food is usually delicious, and the wine and desserts can easily become the highlight of your gastronomic month. Value for money is typically excellent, but this depends on the college.
For those of you who are a non-member of a college, attendance is by invitation only. However, a loophole exists!
If you can convince a college member (usually by paying them) to get you a ticket to a formal, you can show up, quote their name and dine at your leisure.
This isn't easy to do if you're only in town temporarily, but a helpful Facebook group exists in which Cambridge students sell and exchange formal dinner tickets.
All you need to do is join the group and contact anyone posting about a formal at their college! They're usually very friendly, and it's common courtesy not to try to make a profit from this group, so they're unlikely to rip you off.
Do all this before you go to your summer school or conference, and you can book a fancy dinner for you and a mate on one of your free evenings!
Enjoy Your Visit
Follow this guide, and you can safely claim to have had an insider's experience of the University. There are other tips I could give you (like where to get the best chicken wings or the cheapest kebab) but half the fun is finding them out for yourself!
So make the most of your time in Cambridge, try to get a real taste of what student life is like here. Because it truly is a special place, with an inspiring history and loads of hidden gems, if you know where to look.
Attend a Pre-University Course at Cambridge
If you are a high school student who wants to experience what studying at Cambridge is like, sign up for one of our award-winning summer school programs where expert tutors from world-leading universities teach you world-class academics.
Subscribe to the Immerse Education newsletter for £100 off your programme*
We'll send you our company updates and latest news. Subscribe for free by completing the form below.